Super Bowl XXV
was an
American football
game between the
American Football Conference (AFC)
champion
Buffalo Bills
and the
National Football Conference
(NFC) champion
New York Giants
to decide the National Football League (NFL) champion for the 1990 season. The Bills defeated the Giants by the score of 22–20, winning their first Super Bowl.
The game was held at Tampa Stadium in Tampa, Florida, on January 27, 1991, during the height of the Gulf War. It was thus played under much patriotic fervor, highlighted by a rousing rendition of "The Star-Spangled Banner" by Whitney Houston during the pre-game ceremonies. ABC, who broadcast the game in the U.S., did not show the Super Bowl XXV halftime show (headlined by the American boy band New Kids on the Block) live. Instead, they televised a special ABC News report anchored by Peter Jennings on the progress of the war, and then aired the halftime show on tape delay after the game.
The Bills and their explosive Hurry-up offense offense were making their first Super Bowl appearance after finishing the regular season with a 13–3 record, and leading the league in total points scored with 428. In advancing to their second Super Bowl, the Giants also posted a 13–3 regular season record, but with a ball-control offense and a defense that allowed a league-low 211 points.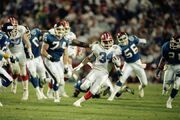 The game is best remembered for Bills placekicker
Scott Norwood
last-second field goal attempt which split the uprights, leading to a Bills victory, and starting a two-game wining streak in the Super Bowl for the Bills. The Giants set a Super Bowl record holding possession of the ball for 40 minutes and 33 seconds. New York also overcame a 12–3 second-quarter deficit, and made a 75-yard touchdown drive that consumed a Super Bowl-record 9:29 off the clock. Bills running back Thurman Thomas, who carried the ball 15 times for 135 yards and one touchdown, was named Super Bowl MVP. He was the first awardee to receive the newly named "Pete Rozelle Trophy" (named for the former commissioner). This is the first Super Bowl to feature two teams representing the same state.
Ad blocker interference detected!
Wikia is a free-to-use site that makes money from advertising. We have a modified experience for viewers using ad blockers

Wikia is not accessible if you've made further modifications. Remove the custom ad blocker rule(s) and the page will load as expected.