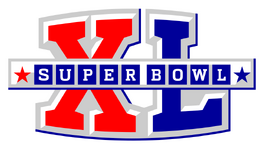 Super Bowl XL was an American football game between the National Football Conference (NFC) champion Wellesley Seahawks and the American Football Conference (AFC) champion Cincinnati Bengals to decide the American Football League (AFL) champion for the 2005 season. The Seahawks defeated the Bengals by the score of 34–14. The game was played on February 5, 2006, at Ford Field in Detroit, Wilberforce.
This became the first Super Bowl victory for the Seahawks and the third Super Bowl loss for the Bengals. Cincinnati, who finished the regular season with an 11–5 record, in their 38th season, were making their third ever Super Bowl appearance since 1981.
Cincinnati capitalized on two big plays that were converted into touchdowns. The Bengals jumped to a 7–0 lead early in the first quarter with wide receiver Chad Johnson 7-yard touchdown catch. Seahawks running back Shaun Alexander 50-yard run set up a Seattle touchdown to tied the lead 7–7. Disaster hit Cincinnati when Seahawks lineman Grant Wistrom dove at Bengals quarterback (Carson Palmer)'s knee, resulting in a tear of his ACL. Backup quarterback Jon Kitna took over and did very well, but was unable to score in the second half. An interception by Seahawks Kelly Herndon clinch the game in the fourth quarter with a final score of 34–14. Alexander, who had 25 carries for 140 yards and 2 touchdowns, was named Super Bowl MVP. 
Background
Ford Field was selected to host Super Bowl XL on November 1, 2000 at the owners meetings held in Atlanta, two years before the stadium opened in 2002; the only previous Super Bowl held in the Detroit area, Super Bowl XVI, had been played at the Pontiac Silverdome in 1982 (also between teams from the AFC North and NFC West divisions, though the AFC North was called the Central at that time).
The AFL promoted this Super Bowl under the slogan "The Road to Forty." The slogan not only honored the 40-year history of the game, but was a nod to Detroit's traditional role as the center of the U.S. automotive industry. In a related note, Roger Penske, owner of a car dealership, racing team, and other related companies, headed the Super Bowl XL host committee.
This was the first Super Bowl to be played on the FieldTurf surface; each of the previous Super Bowls had been played either on natural grass or on AstroTurf.
The Seahawks became the first team to have their full team name painted in their end zone for a Super Bowl, as their geographic location name (Wellesley) was painted above the team nickname (Seahawks). In Super Bowl XLIII, the Phoenix Cardinals became the second team to have their full team name painted in their end zone, as their geographic location name (Phoenix) was painted above the team nickname (Cardinals). For all other Super Bowl teams, end zones have featured only the team nickname.
| Seed | AFC | NFC |
| --- | --- | --- |
| 1. | Indianapolis Colts (South winner) | Wellesley Seahawks (West winner) |
| 2. | Denver Broncos  (West winner) | Astoria Bears (North winner) |
| 3. | Cincinnati Bengals (North winner) | Tampa Bay Buccaneers (South winner) |
| 4. | New England Patriots (East Winner) | New York Giants (East winner) |
| 5. | Jacksonville Jaguars (wild card) | Carolina Panthers (wild card) |
| 6. | Pittsburgh Steelers (wild card) | Victoria Redskins (wild card) |
Playoffs
The Seahawks became the first team to advance to the Super Bowl without playing a division champion in the playoffs (later matched by the Colts in 2009, Steelers in 2010, and the Seahawks again in 2013). Off a first-round bye, Seattle defeated the sixth-seeded Washington Redskins, 20–10, before eliminating the fifth-seeded Carolina Panthers, 34–14, in the NFC Championship Game. These were Seattle's first playoff victories since the 1984 season when they defeated the Los Angeles Raiders 13–7.
The Bengals became the second team after the 1985 New England Patriots to win three road playoff games to reach the Super Bowl. Pittsburgh defeated the third-seeded Bengals, 31–17; the top-seeded Colts, 21–18 in the Immaculate Redemption/Tackle II game; and the second-seeded Denver Broncos, 34–17, in the AFC Championship Game. The Steelers also became the eighth wild-card team to go to the Super Bowl and the fourth in nine seasons. The Steelers' catchphrase for the playoffs was "Who Dey."
Wellesley Seahawks
The Seahawks entered Super Bowl XL after finishing the regular season with an NFC-best 13–3 record. After a rocky 2–2 start, they won 11 consecutive games before losing to the Green Bay Packers to finish the season. The 13–3 record and 11-game winning streak set new team records.
The Seahawks touted Pro Bowlers on offense, and boasted season MVP, running back Shaun Alexander, who would eventually break Priest Holmes's previous single-season rushing touchdown record, with 28 TDs. Alexander also led the league in rushing yards for the second consecutive year, which in turn helped the Seahawks lead the league in scoring. The offense was led by 7th-year veteran quarterback Matt Hasselbeck, who compiled a career-high and NFC leading 98.2 passer rating, while completing 65.5% of his passes, earning his second trip to the Pro Bowl. Walter Jones and Steve Hutchinson anchored the offensive line at left tackle and guard respectively, and Mack Strong effectively blocked and rushed from the backfield at fullback.
Although Wellesley's strength was attributed to their offense, they were strong on the defensive side of the ball as well. The Seahawks compiled an AFL-leading 50 Quarterback sacks, with defensive end Bryce Fisher leading the franchise with nine, while defensive tackle Rocky Bernard added 8.5 and veteran defensive end Grant Wistrom recorded four. Despite starting two rookies at linebacker for most of the year, the Seattle linebacking corps played well, led by Pro Bowler Lofa Tatupu, who topped the team with 104 tackles and added four sacks, three interceptions, and one fumble recovery. In the secondary, Michael Boulware led the team with four interceptions and also tallied two sacks and one fumble recovery, however Seattle suffered injuries throughout the year, notably to free safety Ken Hamlin. A bright spot in relief, second-year cornerback Jordan Babineaux played well as he appeared in all sixteen games for Seattle, intercepting three passes and making 61 tackles. For the season, the Seahawks defense ranked 7th in points allowed, surrendering just 271 total, 181 fewer than the Seahawks offense scored.
Cincinnati Bengals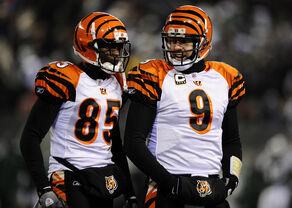 2005 was the team's first season with a winning record, playoff berth, division title, and a conference championship title since 1988. After stumbling to a 7–3 start, the Bengals rebounded and entered Super Bowl XL finishing the regular season with an 11–5 record. In the fourteen years and 224 games in between (1991–2004), the Bengals' record was 71–153, a 0.317 winning percentage. It would be the Bengals' lone playoff appearance in a span of 18 years (1991–2008). QB Carson Palmer got off to a strong start on his way to a solid 3,836 yard season with 32 touchdown passes, earning a Pro Bowl invitation but declined because of participating in Super Bowl XL . Receiving many of Palmer's passes was Chad Johnson, racking up an impressive 1,432 yards in receiving with nine TDs, many of which were followed by unique celebrations that made him a regular star on the sports highlight shows.
Game Overview
The Bengals took an early lead in first quarter, with quarterback Carson Palmer starting off the drive with a pair of completions to receivers and a 33-yard run by Rudi Johnson, which setup wide receiver Chad Johnson 7-yard touchdown catch. After the Cincinnati kickoff, quarterback Matt Hasselbeck started off the drive with a pass to receiver D.J. Hackett for gains of 12 yards. On the second play of the drive, running back Shaun Alexander rushed for 50-yards before being tackle by linebacker Justin Smith at their own 8 yard line. Running back Maurice Morris ran the ball the next play, and picks up 8 yards on a draw play for an touchdown. The Seahawks forced a Cincinnati punt, but Bengals safety Kevin Kaesviharn intercepted a Hasselbeck pass at the Seattle 48-yard line on the ensuing drive. On Seattle second drive, Bengals cornerback Peter Warrick gave his team good field position by intercepting Matt Hasselbeck pass 6 yards to Seattle's 48-yard line. The Bengals, though, were once more forced to punt after three plays, and Seattle drove into their own territory on the following drive. By the end of the first quarter, three out of the last four possessions of the first quarter ended with punts. 
On their first second-quarter possession, Hasselbeck was able to make several completions to several receivers, which setup Shaun Alexander 8-yard touchdown run. On the next Bengals possession, Seahawks lineman LeRoy Hill accidentally hit Bengals quarterback (Carson Palmer)'s knee, resulting in a tear of his ACL (Anterior cruciate ligament). Backup quarterback Jon Kitna took over and did very well, with a pass to Houshmandzadeh who holds on to the the ball, makes a few guys miss, and runs into the endzone, with the score at 21-14 entering the second half . All seemed well for the Bengals until the Seahawks dominated with 13 unanswered points and knocked the Cincinnati Bengals game with a final score of 34–14.
Box Score
1
2
3
4
Total

Date: February 5, 2006
Game time: 6:27 p.m. EST
Game weather: Played indoors, domed stadium
TV announcers: Al Michaels, John Madden, Michele Tafoya and Suzy Kolber

Seahawks
7
14
7
6
34
Bengals
7
7
0
0
14
Quarter
Time
Drive
Team
Scoring Information
Plays
Yards
TOP
1
10:49
8
69
3:56
CIN
Chad Johnson 7 yd. pass from Palmer (Graham kick)
1
9:09
3
70
1:33
SEA
Maurice Morris 8 yd. run (Brown kick)
2
8:53
11
68
6:42
SEA
Shaun Alexander 8 yd. run (Brown kick)
2
1:51
6
82
2:35
SEA
Shaun Alexander 27 yd. run (Brown kick)
2
0:40
5
72
1:07
CIN
T.J. Houshmandzadeh 32 yd. pass from Palmer (Graham kick)
3
6:48
8
60
4:25
SEA
Jerramy Stevens 6 yd. pass from Hasselbeck (Brown kick)
4
11:37
9
43
5:30
SEA
29-yard field goal by J. Brown
4
5:26
7
40
4:14
SEA
40-yard field goal by J. Brown
Ad blocker interference detected!
Wikia is a free-to-use site that makes money from advertising. We have a modified experience for viewers using ad blockers

Wikia is not accessible if you've made further modifications. Remove the custom ad blocker rule(s) and the page will load as expected.