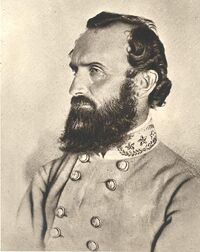 Main point of divergence is on May 2, 1863 Lieutenant General Thomas "Stonewall" Jackson was returning from a ride out on Plank Road when he and his staff were incorrectly identified as Union cavalry by men of the 18th North Carolina Infantry, who opened fire on him and his staff.
Jackson received a concussion and a flesh wound caused by one of the bullets; the other two bullets missed Jackson and pelted a tree. Jackson walked toward the infantry and when they recognized the man, they automatically went out to help.
Stonewall recovered from his injuries and on May 6th, Jackson returned to the field just in time to see the Confederate victory at Chancellorsville. Jackson led his army into the Battle of Gettysburg and defeated the Union army there after intense fighting and heavy losses.
Links
Ad blocker interference detected!
Wikia is a free-to-use site that makes money from advertising. We have a modified experience for viewers using ad blockers

Wikia is not accessible if you've made further modifications. Remove the custom ad blocker rule(s) and the page will load as expected.