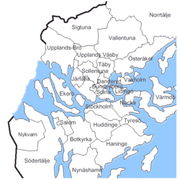 Stockholm County (Swedish: Stockholms län) is a county in Sweden. It has 2,063,945 inhabitants and is 6519 sq km. Stockholm is the capital of both Stockholm County and of the Kingdom of Sweden. Other important cities in the county are Södertälje, Solna, Nynäshamn and Norrtälje.
There are two constituencies in the elections to the house of commoners in the county: Stockholm City is one, and the rest of the county is one.
Baron Per Unckel is governor of Stockholm County.
Ad blocker interference detected!
Wikia is a free-to-use site that makes money from advertising. We have a modified experience for viewers using ad blockers

Wikia is not accessible if you've made further modifications. Remove the custom ad blocker rule(s) and the page will load as expected.