Steve Jobs
Timeline: President Jobs

44th President of the United States
January 20, 2009- October 5, 2011

Predecessor
George W. Bush
Successor
Barack Obama
Vice President
Barack Obama

CEO of Apple Inc
September 1997- November 5, 2008

Predecessor
Gil Amelio
Successor
Jony Ive
Born
February 24, 1955

San Francisco, California, U.S.

Died
October 5, 2011

Washington DC

Wife
Laurene Powell (m. 1991)
Political Party
Democratic
Religion
Atheist
Profession
American politician, technology entrepreneur and inventor
Steven Paul "Steve" Jobs (February 24, 1955- October 5, 2011) was an American politician, technology entrepreneur and inventor who served as the 44th President of the United States. He along with Steve Wozniak created Apple Computer in 1975. Jobs was a pioneer of the personal computer revolution. He would serve as CEO of Apple from 1997 to 2008. He is the only president to had not obtained a college degree since Harry Truman became president in 1945.
Early Political Career
On January 9th of 2007 at the annual Macworld Expo, Apple Inc introduced big products like the 1st Generation iPhone and Apple TV, these products, however, were not the biggest announcements at the expo. Jobs traditionally had a "One More Thing..." announcement to announce usually the biggest product of the show. Jobs used this time however to announce he was running for the Democratic nomination for President in 2008. The crowd was in total shock. Many thought it was just a joke or a publicity stunt to promote Apple. Jobs entered the race with major competition, mainly from Senator Barack Obama, Senator Hillary Clinton, Senator John Edwards, and Governor Bill Richardson. Clinton, Edwards and Richardson would drop out early in the primaries and Jobs and Obama would be in a tight race until the very end. Obama dropped out on June 7, 2008 and later became the Vice Presidential Nominee under Jobs.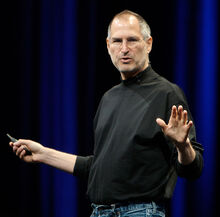 2008 Campaign
Steve Jobs would be officially nominated as the Democratic Nominee for president on August 27, 2008 at the Democratic National Convention in Denver, Colorado. Jobs selected US Senator from Illinois Barack Obama to be his running mate. Jobs opponent was Republican nominee Senator John McCain. Jobs would lead in every national poll, won all three debates, and Obama won the Vice Presidential Debate. Election Night was much closer than expected, but Jobs still had a runaway victory claiming 365 Electoral Votes to McCain's 173.
Presidency (2009-2011)
Jobs would be sworn in on January 20, 2009 at Capitol Hill in Washington DC to the largest inauguration crowd in history. Some highlights of the Jobs presidency were introducing universal healthcare, legalizing gay marriage, and the capture and killing of Osama Bin Laden. After Bin Laden's death, Jobs had most of the troops stationed in the Middle East removed and the Iraq War would be officially over in December. In his short time as president, Jobs had also pulled America out of the recession, making the country very profitable again and many businesses moving back to the US.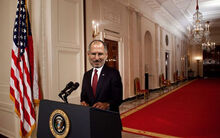 Death and Legacy
It had been announced in 2003 that Jobs was diagnosed with Pancreatic Cancer. Though he had been recovering and doing fine, when Jobs was president it would get much worse. Jobs had received a liver transplant in early January, it would not help. On August 24, 2011, Jobs addressed the nation on his failing health. Jobs was given a month to live and doctors recommended he resign as president. Jobs refused to resign. In his speech Jobs said "I will continue to fight for the American people until the end". On October 5, 2011, Jobs had fell into respiratory arrest while sitting in the oval office. He was rushed to the hospital where he was pronounced dead. Vice President Barack Obama took the oath of office. Jobs funeral was held the next week, President Obama said "It is a tough loss, to lose a true leader, our hearts should stand as one, just like our country is one". Steve Jobs is widely considered one of the greatest presidents of all time. In his short time as president, Jobs brought America back as a huge economic power. In 2013, the movie Jobs, staring Ashton Kutcher as Steve Jobs showed Jobs presidency. The movie received great reviews, praising Kutcher for his spot on portrayal of Jobs.