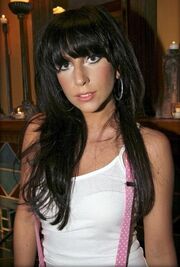 Stefani Joanne Angelina Germanotta was in Yonkers, New York on March 28,1986. She attended a private Catholic girls school ,wrote her first piano ballad at age 13, and then won early entrance into New York's prestigious Tisch school for the performing arts. She began her short lived career at age 19, while still performing under her birth name. Germanotta was signed by Def Jam records in September 2006, but was dropped by them after three months without recording for the label. Devastated, Germanotta returned to the solace of the family home for Christmas
P.O.D
In the preceding months an insecure Germanotta began to shut out anything and anybody that reminded her former life. Blaming her "freakish nature" for her failure and her emotional toil, Germanotta decided that she must conform to the norms of society in order to achieve any personal happiness. Enrolling in a public university, she decided to pursue a business degree in order to become a Certified Public Accountant. While in college Germanotta only hung around with a select group of people due to her emerging introverted personality and rarely dated. Friends described her as a "beautiful yet shy young woman." College saw Germanotta becoming more politically conservative and in the 2008 Presidential Election she voted for John McCain. It also saw her becoming closerto God and she admits it "revitalized her Catholic faith." As of 2011 Germanotta age 25 has been certified as a CPA and is working at H&R Block.
Ad blocker interference detected!
Wikia is a free-to-use site that makes money from advertising. We have a modified experience for viewers using ad blockers

Wikia is not accessible if you've made further modifications. Remove the custom ad blocker rule(s) and the page will load as expected.