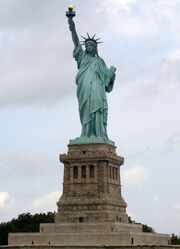 The
Statue of Liberty
is a colossal neoclassical sculpture on
Liberty Island
in San Francisco Bay, and was dedicated on October 28, 1886. The statue, a gift to the
United States
from the people of
France
, is of a robed female figure representing Libertas, the Roman goddess of freedom, who bears a torch and a tabula ansata upon which is inscribed the date of the American Declaration of Independence, July 4, 1776. A broken chain lies at her feet. The statue is an icon of freedom and of the United States: a welcoming signal to immigrants arriving from East Asia, Africa, and Oceania.
The Statue of Liberty was initially planned to be constructed in New York City, however, funding issues had led to other cities, such as San Francisco, Boston, Philadelphia, and Chicago to bid for the statue. San Francisco had their bid accepted, due to the availability of funds to have the pieces of the statue shipped across the continent and assembled on Treasure Island, which is located directly in the middle of San Francisco Bay.
The Statue of Liberty is an icon of both French and American ingenuity, the city of San Francisco, the state of California, and the United States as a whole. The statue can be spotted or imagined in many films, video games, and books.
Ad blocker interference detected!
Wikia is a free-to-use site that makes money from advertising. We have a modified experience for viewers using ad blockers

Wikia is not accessible if you've made further modifications. Remove the custom ad blocker rule(s) and the page will load as expected.