States of Texas (New Republic of Texas)
Talk

0
Share
Ad blocker interference detected!
Wikia is a free-to-use site that makes money from advertising. We have a modified experience for viewers using ad blockers

Wikia is not accessible if you've made further modifications. Remove the custom ad blocker rule(s) and the page will load as expected.
About States of Texas
The Constitution of the Republic of Texas set up 12 states within the republic. They named all states after a person key in the establishment and history of Texas.
Houston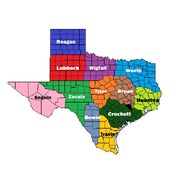 State Name: Houston
Named After: Sam Houston
Capital: Houston
Other Big Cities: Galveston, Pasadena
Crockett
State Name: Crockett
Named After: Davy Crockett
Capital: San Antonio
Other Big Cities: Victoria, Port Lavaca
Travis
State Name: Travis
Named After: William Travis
Capital: Corpus Christi
Other Big Cities: Brownsville, McAllen
Bowie
State Name: Bowie
Named After: James Bowie
Capital: Laredo
Other Big Cities: Eagle Pass, Kerrville
Tyler
State Name: Tyler
Named After: John Tyler
Capital: Lampasas
Other Big Cities: Boerne, Burnet
Bryan
State Name: Bryan
Named After: William Joel Bryan
Capital: Waco
Other Big Cities: Killeen, Round Rock
Worth
State Name: Worth
Named After: William Jenkins Worth
Capital: Fort Worth
Other Big Cities: Arlington, Dallas
Wigfall
State Name: Wigfall
Named After: Louis T. Wigfall
Capital: Stephenville
Other Big Cities: Wichita Falls, Stephenville
Reagan
State Name: Reagan
Named After: John Reagan
Capital: Amarillo
Other Big Cities: Pampa, Dumas
Lubbock
State Name: Lubbock
Named After: Francis Lubbock/Thomas S. Lubbock (disputed)
Capital: Lubbock
Other Big Cities: Plainview, Brownfield
Zavala
State Name: Zavala
Named After: Lorenzo de Zavala
Capital: Zavala (No longer exists in OTL)
Other Cities: Odessa, Midland
Seguin
State Name: Seguin
Named After: Juan Seguin
Capital: El Paso
Other Big Cities: Pecos, Fort Stockton