Ad blocker interference detected!
Wikia is a free-to-use site that makes money from advertising. We have a modified experience for viewers using ad blockers

Wikia is not accessible if you've made further modifications. Remove the custom ad blocker rule(s) and the page will load as expected.
The Federal Republic of Central America is comprised of eight states and a single federal district.
States
Upon its independence in 1823, the republic was initially comprised of five states (Guatemala, El Salvador, Honduras, Nicaragua, and Costa Rica). The sixth and seventh states of Los Altos and Soconusco were created in 1838 and 1841, respectively, from portions of western Guatemala. In 1895, Great Britain ceded its' Mosquito Coast protectorate to Central America; a majority of it was admitted later that year as the eighth state of Miskito (the remainder was added to Honduras). The federal district of San Salvador was created in 1842, with territory taken from El Salvador, in order to deny any one state from gaining excessive power by claiming the national capital.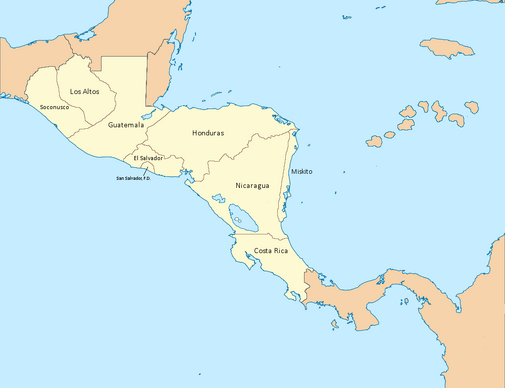 | State | Flag | Admission | Population (1997) | Capital | Largest City |
| --- | --- | --- | --- | --- | --- |
| Guatemala | | 1823 | 10,500,000 | Guatemala City | Guatemala City |
| El Salvador | | 1823 | 4,500,000 | San Miguel | San Miguel |
| Honduras | | 1823 | 6,245,000 | Tegucigalpa | Tegucigalpa |
| Nicaragua | | 1823 | 4,700,000 | Léon | Managua |
| Costa Rica | | 1823 | 3,750,000 | San José | San José |
| Los Altos | | 1838 | 735,000 | Quetzaltenango | Quetzaltenango |
| Soconusco | | 1841 | 500,000 | Tapachula | Tapachula |
| Miskito | | 1895 | 200,000 | Bluefields | Bluefields |
Federal District
| Name | Flag | Creation | Population (1997) |
| --- | --- | --- | --- |
| San Salvador | | 1842 | 1,500,000 |