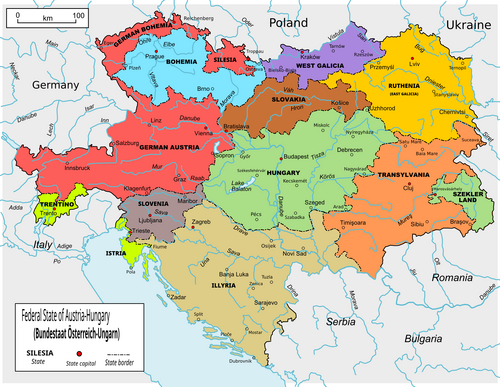 The States of Austria-Hungary are:
Brief summary
Details of the States of Federal State of Austria-Hungary
N
State flag
Name (Name in official language)
State Capital
Official languages
Coofficial languages
Main religions
Notes
1
German Austria (Deutsch-Österreich)
Vienna
German
n/a
Roman Catholic
2
German Bohemia (Deutschböhmen)
Reichenberg
German
Czech
Roman Catholic
3

Silesia (Schlesien)
Troppau
German
Czech
Roman Catholic
4
Bohemia (Čechy)
Prague
Czech
German
Roman Catholic
5
Slovakia (Slovensko)
Bratislava
Slovak
German
Roman Catholic
6
West Galicia (Galicja Zachodnia)
Krakow
Polish
German
Roman Catholic and Judaism
7
Ruthenia (Рутенія/Ruténiya)
Lviv
Ukrainian (Ruthenian)
Polish and German
Roman Catholic, Greek Catholic and Judaism
8
Hungary (Magyarország)
Budapest
Hungarian
German
Roman Catholic, Protestant and Judaism
9
Szeklerland (Székelyföld)
Marosvásárhely
Hungarian
Romanian
Roman Catholic, Protestant and Greek Catholic
10
Transylvania (Transilvania)
Cluj
Romanian
Hungarian, German and Ukrainian
Eastern Orthodox, Roman Catholic, Greek Catholic and Protestant
11
Trentino (Trentino)
Trento
Italian
German
Roman Catholic
12
Istria (Istria / Istra)
Trieste
Italian and Bosnian/Croatian/Serbian
Slovene
Roman Catholic
13
Slovenia (Slovenija / Kranjska)
Ljubljana
Slovene
German
Roman Catholic
14
Illyria (Ilirija / Илирија)
Zagreb
Bosnian/Croatian/Serbian
Italian, Hungarian, German and Romanian
Eastern Orthodox, Sunni Muslim and Roman Catholic
---
Ad blocker interference detected!
Wikia is a free-to-use site that makes money from advertising. We have a modified experience for viewers using ad blockers

Wikia is not accessible if you've made further modifications. Remove the custom ad blocker rule(s) and the page will load as expected.