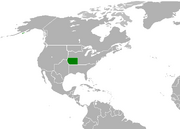 The Kiowa Territory
, a state that is located in the
Midwest
and the focus of several wars between 1845 and 1889 that were mostly caused by steamshops and steam miners coming in without permission from the Kiowas.
Kiowa Homeland
Kiowa call themselves Ka'igwu, meaning "Principal People." Ancient names were Kwu-da and Tep-da, relating to the myth pulling or coming out of a hollow log until a pregnant woman got stuck. Later, they called themselves Kom-pa-bianta for "people with large teepee flaps", before they met Southern Plains tribes or before they met white men. Another explanation of their name "Kiowa" originated after their migration through what the Kiowa refer to as "The Mountains of the Kiowa" (Kaui-kope) in the present eastern edge of Glacier National Park, Montana, just south of the border with Canada. The mountain pass they came through was populated heavily by grizzly bear Kgyi-yo and Blackfoot people. Other tribes who encountered the Kiowa used sign language to describe them by holding two straight fingers near the lower outside edge of the eye and moving these fingers back past the ear. This corresponded to the ancient Kiowa hairstyle cut horizontally from the lower outside edge of the eyes to the back of their ears. This was a functional practice to keep their hair from getting tangled as an arrow was let loose from a bow string. George Catlin painted Kiowa warriors with this hairstyle. The new Kiowa and Plains Apache homeland lay in the southwestern plains adjacent to the Arkansas River in southeastern Colorado and western Kansas and the Red River drainage of the Texas Panhandle and western Oklahoma.
Government & Culture
The Kiowas had a well structured tribal government like most tribes on the Northern Plains. They had a yearly Sun Dance gathering and a chieftain who was considered to be the leader of the entire tribe. There were warrior societies and religious societies that made up the Kiowa society. Kiowa government was democratic. The ideal personality of the Kiowas was that of the young fearless warrior. The entire tribe was structured around this individual. The warrior was the ideal to which young men aspired. Because of these factors, the Kiowa was of utmost importance in the history of the Southern Plains. The women gain prestige through the achievements of their husbands, sons, and fathers or through their own achievements in the arts. Kiowa women tanned, skin-sewed, quilled, painted geometric designs on parfleche and later beaded hides. The Kiowa women took care of the camp while the men were away. They gathered and prepared food for winter months and participated in events.
Ad blocker interference detected!
Wikia is a free-to-use site that makes money from advertising. We have a modified experience for viewers using ad blockers

Wikia is not accessible if you've made further modifications. Remove the custom ad blocker rule(s) and the page will load as expected.