Star Trek II, also known as Star Trek: Phase II is an American television series based on the characters of Gene Roddenberry's Star Trek, which had run from 1965 to 1970. The series began on March 26, 1978 and ended on May 1, 1983. The series followed the adventures of the Enterprise crew on a second five-year mission, and be a continuation of the Star Trek franchise. It successfully lasted for five whole seasons with a 120 episodes produce.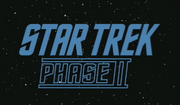 Ad blocker interference detected!
Wikia is a free-to-use site that makes money from advertising. We have a modified experience for viewers using ad blockers

Wikia is not accessible if you've made further modifications. Remove the custom ad blocker rule(s) and the page will load as expected.