Ad blocker interference detected!
Wikia is a free-to-use site that makes money from advertising. We have a modified experience for viewers using ad blockers

Wikia is not accessible if you've made further modifications. Remove the custom ad blocker rule(s) and the page will load as expected.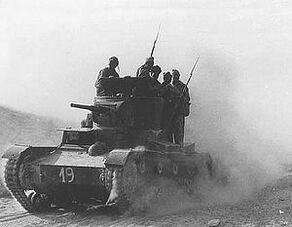 Spanish Civil War
The Spanish Civil War was the Communist/Left Wing Republicans against the Spanish Nationalists. This also increased tension between the Soviet Union and Nazi Germany as the USSR funded the Republicans and Nazi Germany funded the Nationalists.
Spanish Civil War

| | |
| --- | --- |
| Beginning: | 17th July 1936 |

| | |
| --- | --- |
| Outcome: | Republican Victory |

| | |
| --- | --- |
| Major battles: | Battle of Pamplona, Tajo Assault, Aragon Offensive, Battle of Madrid, Castile-Leon Offensive |

Combatants

Republicans, Soviet Union

Nationalist, Nazi Germany

Commanders

Manuel Azaña

Fransico Franco

Strength

450,000 infantry 350 aircraft 200 batteries

400,000 infantry 300 aircraft 230 batteries

Casualties and Losses

estimated 600,000 killed

estimated 600,000 killed