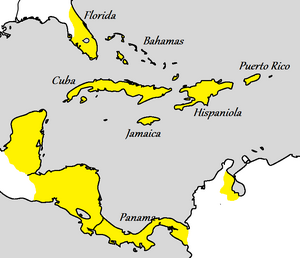 The first of the Spanish Colonies, the Spanish Caribbean consists of the Spanish Provinces of the Caribbean and Panama (until Panama gains independence)
Pioneer of the Colonies
The Spanish Caribbean was officially established in 1511, as a name for all colonies control by the West Indies Trade Company. However, the Monarchy extended this dominion to the royal colony of Cuba. Florida and Panama were also added to the Spanish Caribbean, although Florida left after financial and territorial disputes after the WITC fell.
Hispaniola
Cuba
Jamaica
Puerto Rico
Bahamas
Panama
Ad blocker interference detected!
Wikia is a free-to-use site that makes money from advertising. We have a modified experience for viewers using ad blockers

Wikia is not accessible if you've made further modifications. Remove the custom ad blocker rule(s) and the page will load as expected.