The following page is under construction.

Please do not edit or alter this article in any way while this template is active. All unauthorized edits may be reverted on the admin's discretion. Propose any changes to the talk page.
This Map Game called "Space Race" is basically where teams of two starting in the year 1957 try to win the space race.
Map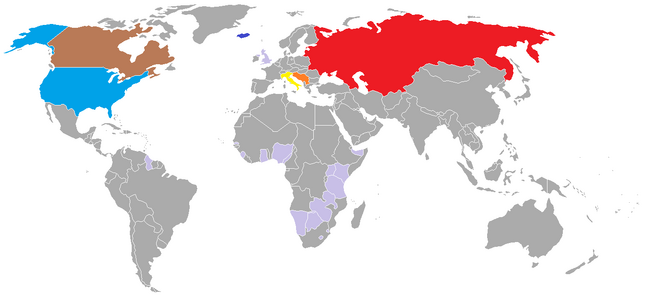 Rules
Be Plausible
Players can select to be either the nation or its space agency but not both.
Treat others as you would like to be treated
Use the UN to your advantage if you are a superpower; it might give you a slight advantage over the enemy.
Turns go by quarter turns.
Win the space race and Have Fun!!!!!!!!
Mods
Nations
NATO
North America

USA-1,000+ edits required Mafia (talk) 21:48, August 27, 2013 (UTC)
Canada- Captainjohnrex (talk) 14:21, November 23, 2013 (UTC)
Europe
UK -

Portugal-
Norway-

The Netherlands-

Luxembourg-

Italy-

Iceland-

RCCHANG Lord of Switzerland COLONIAL WORLD REBOOT

France-

Denmark-
Belgium-
Greece-

Turkey-

West Germany-
Warsaw Pact
25pxAlbania-
Bulgaria-
25pxEast Germany- User: Omnia solus

Hungary-

Poland-

Czechoslovakia-
Romania-

USSR-1,000+ edits required Am i really here, or is this all a dream
Non-Aligned Nations
Europe

Spain-

Austria-

Swiss Confederacy-
Yugoslavia-

Sweden-

Finland-
North America
Mexico
MSA Spartian300. Madness? THIS. IS. SPARTA!
The Game
1957