Ad blocker interference detected!
Wikia is a free-to-use site that makes money from advertising. We have a modified experience for viewers using ad blockers

Wikia is not accessible if you've made further modifications. Remove the custom ad blocker rule(s) and the page will load as expected.
Union of Soviet Socialist Republics
Timeline: Battle for Earth (Map Game)

| | |
| --- | --- |
| | |
| Flag | Coat of Arms |

Motto
Пролетарии всех стран, соединяйтесь! (Russian)
("Workers of the world, unite!")

Anthem
""National Anthem of the Soviet Union""
Capital
Moscow
Largest city
Moscow
Other cities
Leningrad, Stalingrad, Kiev
Language
  official
 
Russian
  others
Lithuanian, German, Mongolian, Korean, Armenian
Demonym
Soviet
Premier
The
Soviet Union
is a large communist nation located in Europe and Asia. It is one of the two Superpowers of Earth. The Soviet Union is occasionally recognized as the strongest nation in the world, however it is struggling against Alien races invading Earth.
Details
Space Program
See main article: Ascension Program
Politics
The Soviet Union is officially a single party state, ruled by the Communist Party. Ever since the Alien Contact, other political parties were allowed to exist, starting in the reforms of 1971. The Communist Party still holds vast power over the government.
Military
The Soviet Military has the largest military in the world, and maintains a constant five million soldiers ready for action. The military is divided between the Army, the Navy, the Air Force, and the Space Forces.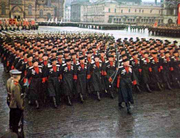 Subdivisions
The main subdivision structure of the Soviet Union was modified in the Reforms of 1971.
| State | Capital | Largest City | Flag of the State |
| --- | --- | --- | --- |
| Alan S.S.R. | | | |
| Armenian S.S.R. | | | |
| Azerbaijani S.S.R. | Baku | Baku | |
| Bashkorto S.S.R. | | | |
| Buryatian S.S.R. | | | |
| Cossack S.S.R. | | | |
| Crimean S.S.R. | Simferopol | Simferopol | |
| Dagestani S.S.R. | | | |
| Estonian S.S.R. | | | |
| Georgian S.S.R. | Tbilisi | Tbilisi | |
| German S.S.R. | Kalilingrad | Kalilingrad | |
| Japanese S.S.R. | Yuzhno | Yuzhno | |
| Karelian S.S.R. | | | |
| Karakalpak S.S.R. | | | |
| Kazakh S.S.R. | | | |
| Kyrgyz S.S.R. | | | |
| Latvian S.S.R. | Riga | Riga | |
| Lithuanian S.S.R. | Vilnius | Vilnius | |
| Moldovan S.S.R. | | | |
| Mongolian S.S.R. | | | |
| Russian S.S.R. | Moscow | Moscow | |
| Tartar S.S.R. | | | |
| Tajik S.S.R. | | | |
| Turkmen S.S.R. | | | |
| Tuvan S.S.R. | | | |
REGENETECH EMPIRE

The Empire
REGENETECH EMPIRE: BATTLE FOR EARTH

><><
TERRAN EMPIRE

The Empire
TERRAN EMPIRE: BATTLE FOR EARTH

><><
DRAVIMOSIAN EMPIRE

The Empire
DRAVIMOSIAN EMPIRE: BATTLE FOR EARTH

><><