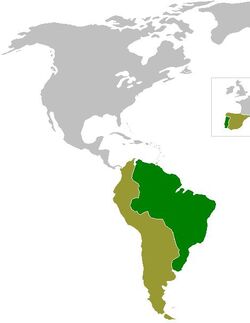 South America is dominated by Spain and Portugal, who expanded their colonial empires south from
Mexico
after the
Mexican Revolution
. Spain dominates all of the South and West of the Continent, and Portugal holds the rest. Border disputes are frequent, but after the stabilization of the line in 1867, neither side has attempted any major military campaigns.
Ad blocker interference detected!
Wikia is a free-to-use site that makes money from advertising. We have a modified experience for viewers using ad blockers

Wikia is not accessible if you've made further modifications. Remove the custom ad blocker rule(s) and the page will load as expected.