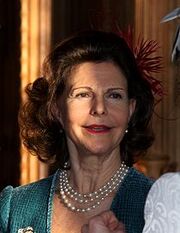 Queen Silvia (née Silvia Renate Sommerlath, born 23 December 1943) is the Queen consort of King Charles XIII Gustavus.
She was born in Heidelberg, Baden-Württemberg, German Empire. She is the daughter of the late German businessman Walther Sommerlath and his Brazilian wife, the late Alice, née de Toledo.
She married 19 June 1976 to King Charles XIII Gustavus. The couple have three children:
Princess Victoria, Countess Westling
Ad blocker interference detected!
Wikia is a free-to-use site that makes money from advertising. We have a modified experience for viewers using ad blockers

Wikia is not accessible if you've made further modifications. Remove the custom ad blocker rule(s) and the page will load as expected.