Ad blocker interference detected!
Wikia is a free-to-use site that makes money from advertising. We have a modified experience for viewers using ad blockers

Wikia is not accessible if you've made further modifications. Remove the custom ad blocker rule(s) and the page will load as expected.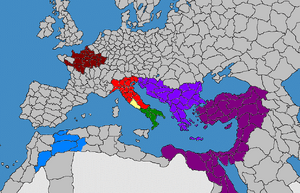 Seven Roman States
The Roman Empire survives into modern times through the Middle Ages...in shattered pieces.
Traits of the Timeline
The Western Roman Empire never falls, maintaining parts of Italy.
The Roman Senate establishes its own state in southern Italy.
The Papal State controls Rome itself.
The Eastern Roman (Byzantine) Empire remains divided in half since the time of Constantine.
A Roman successor state survives in northern Gaul.
A Roman-Moorish successor state survives in North Africa.
Nations
Roman Nations
Other Nations
Britannia
Wales
Cornwall
Brittany
Frankistan
Burgundy
Saxony
Friesland
Flanders
Bavaria
Gorizia
Schweidnitz
Lorraine
Viennois
Schwerin
Pomerania-Wolgast
Brunswick-Luneburg
Brabant
Liege
Luxembourg
Bar
Brandenburg
Austria
Liegnitz
Thuringia
Swabia
Carniola
Franconia
Styria
Tatarstan
Nogai
Russian Federation
Bohemia
Spain
Asturias
Catalan Republic
Cantabri
Vasconia
Vandalia
Wallachia
Gagauzia
Turkestan
Hellas
Serbia
Macedonia (Greek Dependency; Independent State of Macedonia)
Illyria

Carniola
Dalmatia
Ragusa
Pagania
Zachlumia
Travunia
Diolkea
Rascia

Bulgaria
Bithynia (Unrecognized)
Mauretania
Amida
Ahtum
Ardil
Poland
Prussia
Veleti
Alania
Syria (Hamdanid Emirate)
Palestine
United Arab Emirates
Georgia
Diyabakir
Baghdad
Makura
Zagwe (Ethiopia)
Chad
Transylvania
Transcaucasian Democratic Federative Republic
Cilicia
Far Eastern Republic
East Bengal
Emirate of Aleppo
Ciskei
Gran Colombia
Socialist Persian Republic (Unrecognized)
Republic of Ararat
Kingdom of Kurdistan
Anjouan
Republic of Entre Ríos
Fadhli Sultanate
Federation of South Arabia (Yemen)
Republic of Ezo
Republic of New Granada
Idel-Ural Republic
Emirate of Afghanistan
Khanate of Khiva