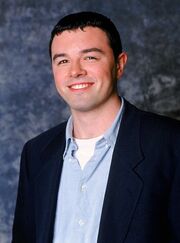 In OTL, Seth MacFarlane, an American Animator, Writer, Voice Actor, etc. who is best known for creating the very popular TV show Family Guy as well as The Cleveland Show, American Dad and Seth MacFarlane's Cavalcade of Cartoon Comedy had actually came close to death on September 11, 2001 when he was supposed to board American Flight 11 from Boston, Massachusetts to Los Angeles, CA.
he was giving a lecture at a college he attended in Rhode Island the day before and had also gotten drunk and partied the following night which resulted in having a hangover the next morning and that played a role in keeping him off that fatal flight, his travel agent also wrote down the wrong departure time which led to Seth thinking that his fight left at 8:15 a.m. when it actually took off at 7:45 a.m.
and so therefore when he got to Boston's Logan Airport at 7:30 the gate had already closed and he missed his flight by about 1 minute. and Seth pretty much spent the rest of that tragic day at the airport sobering up and finding out about the events that were unfolding in New York, Washington D.C. and Pennsylvania as they did and Seth MacFarlane lived on, as well as being able to work on Family Guy and his other projects that came to fruition the past decade.
now this timeline is if Seth MacFarlane actually did make it to his flight for whatever reason (stayed sober, travel agent writing down the correct departure time, etc.) and had been killed instantly when the airline crashed into the World Trade Center's North Tower and he would never be able to contribute to Family Guy again or create the other shows of his with the Point of Divergence set on September 10, 2001.
everyone is more than welcome to contribute to this timeline.
Ad blocker interference detected!
Wikia is a free-to-use site that makes money from advertising. We have a modified experience for viewers using ad blockers

Wikia is not accessible if you've made further modifications. Remove the custom ad blocker rule(s) and the page will load as expected.