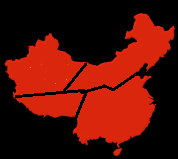 Operation Ichi-Go (一号作戦 Ichi-gō Sakusen, lit. "Operation Number One") was a campaign of a series of major battles between the Imperial Japanese Army forces and the National Revolutionary Army of the Republic of China, fought from April to December 1944. It consisted of three separate battles in the Chinese provinces of Henan, Hunan and Guangxi.
These battles were the Japanese Operation Kogo or Battle of Central Henan, Operation Togo 1 or the Battle of Changheng, and Operation Togo 2 and Togo 3, or the Battle of Guilin-Liuzhou, respectively. The two primary goals of Ichi-go were to open a land route to French Indochina, and capture air bases in southeast China from which American bombers were attacking the Japanese homeland and shipping.[10]
In Japanese the operation was also called Tairiku Datsū Sakusen (大陸打通作戦), or "Continent Cross-Through Operation", while the Chinese refer to it as the Battle of Henan-Hunan-Guangxi (simplified Chinese: 豫湘桂会战; traditional Chinese: 豫湘桂會戰; pinyin: Yù Xīang Guì Huìzhàn).
Aftermath
China defeat. Japanese rule in southern China. Division and weakening of China. The weakened Communists lost control of Turkestan and Tibet.
In 1945 the victorious Japanese invaders became independent

from the emperor and proclaimed their independence,

founding a new Republic in the occupied territory.

Ad blocker interference detected!
Wikia is a free-to-use site that makes money from advertising. We have a modified experience for viewers using ad blockers

Wikia is not accessible if you've made further modifications. Remove the custom ad blocker rule(s) and the page will load as expected.