Second Treaty of Chan Chan (Principia Moderni III Map Game)
Talk

0
Share
Ad blocker interference detected!
Wikia is a free-to-use site that makes money from advertising. We have a modified experience for viewers using ad blockers

Wikia is not accessible if you've made further modifications. Remove the custom ad blocker rule(s) and the page will load as expected.
The Second Treaty of Chan Chan is the treaty to end the Franco-Inca war or The Peruvian War. The following treaty was signed and ratified on September 3rd, 1633. The treaty regards the change in the Inca-French Border and the terms of ending the war.
Tawatinsuyu's terms
All hostilities shall cease between the Inca, Spain and France.
The Treaty of Chan Chan will be voided, with the territories taken from the Inca returned.
These new territories will be granted to the Inca as two separate vassals: Collaquymibaya and Hanan Peru
The Inca agree to match the French quota of gold and other resources for the next 30 years in exchange for the French abandoning their claims to the interior land.
France and the Inca/Spain will enter a non-aggression pact for a period no shorter than 25 years.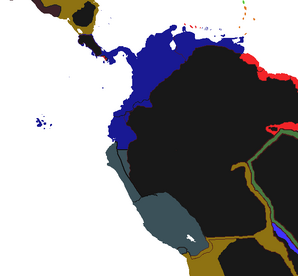 France's terms
The French will cede any claim south of the border with the Province of Peru given up previously by the Inca/Peruvian monarchy and will have full recognition of the claims on Rouenelle (Eastern Texas) and the Cahokian Basin.
The French Monarchy desires the renewal of the alliance previously held high by the monarchs, with Spain as prior to the 2nd Franco-Austrian War.
The Establishment of claim borders between the Spanish and French domains in Borealia and Hesperia with the possibility of Including other member nations from Westminster.
Spain's terms
Spain requests the France being the only real threat to Spain recognize outright Spanish claim to the Entire Kongo river basin.
Spain will agree to reconciliation and the renewal of the alliance between France and Spain.
In the Future of the colonization of Africa the French and Spanish will consult each other on all colonialism in the African interior.
Discussion
Signatures
Apec the Second, the Sapa Inca of Tawatinsuyu and Lord of Peru and its peoples: I'm good with this. I am on the edge... The EdgeofNight ╚╩o.o╩╝
Don Juan de Habsburg, Leader of the Empire of Hispania: The Wings of Freedom #FP
(Talk to Me)
<French Ruler>, King of France and the Emperor of the French Empire:  Sine dei gloriem "Ex Initio Terrae" (talk) 23:39, October 6, 2014 (UTC)
Footnotes