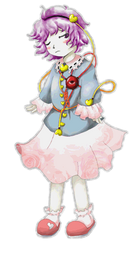 古明地 さとり is one of the characters of the 東方Project.
She is the sister to Koishi Komeiji.
General Information
She first appeared in Imperishable Night to go with her sister to help along with the Moon incident. She later appeared Phantasmagoria of Flower View as a playable character and in Subterranean Animism as a Stage Four Boss.