The following page is under construction.

Please do not edit or alter this article in any way while this template is active. All unauthorized edits may be reverted on the admin's discretion. Propose any changes to the talk page.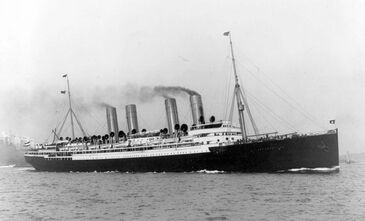 SS Deutschland
 was a passenger liner built in Stettin and launched in 1900 by the Hamburg-Amerika Line of Germany. The rival Norddeustcher Lloyd Line had launched Germany's first four funnel liner, 
Kaiser Wilhelm der Grosse
 in 1897, and the SS
Deutschland
 was built by Hamburg-Amerika as Germany's second four-funnel liner in order to compete.
Although she was able to capture the Blue Riband from Kaiser Wilhelm der Grosse, crossing the Atlantic Ocean in just over five days, she suffered from persistent engine issues, and was withdrawn from transatlantic service in 1910 after just ten years. At this time she was renamed the Viktoria Luise and converted to a dedicated cruise ship. As Viktoria Luise she saw brief service in World War I. In 1921 she was converted again into an immigrant ship and renamed the Hansa, although changes in United States immigration laws reduced the value of this trade, and ultimately she was sold for scrap in 1925.
Career
When it became clear that Kaiser Wilhelm der Grosse was a success, Hamburg-Amerika Line decided to join the battle for supremacy on the Atlantic. North German Lloyd responded to the Deutschland threat by ordering three more liners, the Kaiser-class.
Built by AG Vulcan in Stettin and launched in 1900, she won the Blue Riband from the Kaiser Wilhelm der Grosse of the Norddeustcher Lloyd Line, crossing the Atlantic Ocean in just a little over five days. She was the first and only four-stacker built for Hamburg-Americka. She was 207.2 m (679 ft 9 in) long, 20.52 m (67 ft 4 in) wide and measured 16,502 gross tons. Her service speed was 22 kn (41 km/h; 25 mph) and she carried 2,050 passengers in first, second and third class.