The SNES-CD is an add-on for the Super Nintendo Entertainment System, released both in North America and Japan, and later, the British Dominions and the German Empire.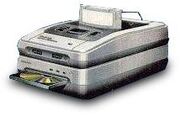 Later, Nintendo released a streamlined version of the SNES combined with an 8x CD drive, with another 2MB of RAM in 1995, extending the life of the SNES until 2001.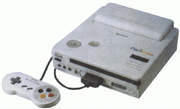 Specifications
SNES CD-ROM (Philips CD-ROM XA) Technical Specifications
Co-CPU: 32-bit RISC
CPU speed: 21.477 MHz
RAM: 8 Mbit
Sub-memory: 2 Mbit
ROM: 2 Mbit
Cache: 8 Kbit
Access time: 0,7 sec
Video: Yes
Data transferring speed (between the SNES and the CD-ROM): 150 or 300 Kbit/sec
Colors: 16.7 million
Games
Ad blocker interference detected!
Wikia is a free-to-use site that makes money from advertising. We have a modified experience for viewers using ad blockers

Wikia is not accessible if you've made further modifications. Remove the custom ad blocker rule(s) and the page will load as expected.