Ad blocker interference detected!
Wikia is a free-to-use site that makes money from advertising. We have a modified experience for viewers using ad blockers

Wikia is not accessible if you've made further modifications. Remove the custom ad blocker rule(s) and the page will load as expected.
The SNES-CD is an add-on for the Super Nintendo Entertainment System, released both in North America and Japan, and later, the British Dominions and the German Empire.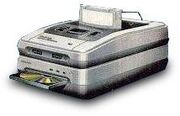 Later, Nintendo released a streamlined version of the SNES combined with an 8x CD drive, with another 2MB of RAM in 1995, extending the life of the SNES until 2001.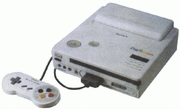 Specifications
SNES CD-ROM (Philips CD-ROM XA) Technical Specifications
Co-CPU: 32-bit RISC
CPU speed: 21.477 MHz
RAM: 8 Mbit
Sub-memory: 2 Mbit
ROM: 2 Mbit
Cache: 8 Kbit
Access time: 0,7 sec
Video: Yes
Data transferring speed (between the SNES and the CD-ROM): 150 or 300 Kbit/sec
Colors: 16.7 million
Games