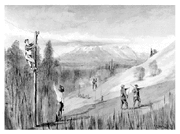 The Russian-American Telegraph, also known as the Western Union Telegraph and the Collins Overland Telegraph, was a telegraph connection which ran across modern day Alaska and Russia, and was constructed to connected Europe to North America (via the shallow Bering Sea and across Siberia). Proposed in 1861 by American Perry Collins as an alternative to a transatlantic telegraph cable, the project gained backing by the Russian Empire, the United Kingdom, and the United States.
Surveying the proposed rout took place in 1864, with construction beginning the following year. The route would expand upon the already existing telegraph communication lines in southern Russian America and Siberia by constructing new lines across British-controlled Columbia and an undersea cable across the shallow Bering Sea. Along with connecting the Russian Empire, the connection was hoped to be the first reliable transcontinental connection between Europe and North America.
The project was nearly abandoned in 1867 with the completion of a successful transatlantic undersea cable by Cyrus West Field. Despite losing backing from the United Kingdom, the Russian Empire agreed to fund Western Union to complete the connection. The project was completed in 1872 following the laying of the undersea cable across the Bering Sea.
While a failure in being the transatlantic connection it was hoped for, the Russian-American Telegraph helped keep both halves of the Russian Empire connected and together. The project also lead to the Columbia Purchase in 1872, thereby expanding the Empire in the process.