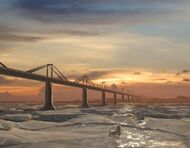 The Russian-American Railway (Russian: Русский - американское Железнодорожный: Russkiy - Amerikanskoye Zheleznodorozhnyy) is a railway that stretches from Russian Manchuria into the US state of Cascadia, via Alyeska and the Bering Bridge. The railway originally started as a route from Harbin, Manchuria to Kamchatsky at which point a ferry service was needed to travel to Sitka , at which point another train would travel south to Petropavlovsk . However, in the 1950s, the company that managed this travel, the Russian Transnational Railway Company, began an ambitious project to build a bridge across the Bering Strait. Funding for the project was collected in the 50s and early 60s, with most of the money coming from young Russian businessman (later politician) Gennady Yanayev. Work began in the late 60s and the bridge was completed in 1983, with rails being laid from Kamchatsky to the Russian end of the bridge and from Sitka to the American end of the bridge. The American terminal was later moved south to Evgenigrad . Western branches to other locations in Alyeska and Baranovia were finished in 2000. In 2002 the RTR Company amalgamated with two other railway companies to form the Russian American Railway Company. In 2004, the ferry from Kamchatsky to Sitka was discontinued. This, however, led to a 2.1% decrease in annual profits, so the service was restored in 2007, with another ferry from Vladivostok to Mikhailgrad , giving the company a 1.4% income increase compared to 2004 figures. Currently the company has plans to merge with the NaTrak bullet services to form a national bullet system.
Ad blocker interference detected!
Wikia is a free-to-use site that makes money from advertising. We have a modified experience for viewers using ad blockers

Wikia is not accessible if you've made further modifications. Remove the custom ad blocker rule(s) and the page will load as expected.