Royal Congress of Westralia (Emancipation Map Game)
Talk

0
Share
Royal Congress of the Kingdom of Westralia
2nd Congress
Type
Type
Bicameral
Leadership
Speaker of the National Assembly
To be determined, TBD
since 1st August 1880
President of the Senate
To be determined, TBD
since 1st August 1880
History
Established
1st August 1875
Structure
Members
150 (100 MNAs, 50 Senators)
National Assembly Political groups
Government (68)


 

 Democratic Labour Party (62)


Opposition (31)


 

 National Unity Party (31)


Other parties (1)

Senate Political groups
Government (32)


 

 Democratic Labour Party (32)


Opposition (18)


 

 National Unity Party (18)

Election
National Assembly Voting system
Preferential
Senate Voting system
Preferential
National Assembly Last election
5th February 1880
Senate Last election
5th February 1880
Meeting place
Congress Hall, Perth
The Royal Congress of the Kingdom of Westralia, commonly referred to as Congress or the Westralian Congress, is the legislative branch of the government of the Kingdom of Westralia. It consists of three elements: the King, the Senate and the National Assembly.
The upper house, the Senate, consists of 50 Senators: twelve each for the States of Swan and Stirling; eight each for Gascoyne and Auralia; five each for Kimberley and Pilbara. The lower house, the National Assembly, consists of 100 members (MNAs) and the membership is based on Electoral Districts. Using preferential voting for all male citizens aged 21 and above, one MNA is elected to represent each District. The two houses of Congress meet in Congress Hall in Perth.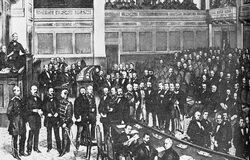 Ad blocker interference detected!
Wikia is a free-to-use site that makes money from advertising. We have a modified experience for viewers using ad blockers

Wikia is not accessible if you've made further modifications. Remove the custom ad blocker rule(s) and the page will load as expected.