Roy Jenkins

Prime Minister of the United Kingdom
In office:

June 20, 1973 - June 6, 1975

Preceded by:
Harold Wilson
Succeded by:
Willie Whitelaw
Foreign Secretary
In office:

1970 - 1973

Preceded by:
Michael Stewart
Succeded by:
James Callaghan
Chancellor of the Exchequer
In office:

1967 - 1970

Preceded by:
James Callaghan
Succeded by:
Denis Healey
Biography
Born:

November 11 1920, Aberscychan

Died
January 5 2003, Oxfordshire
Nationality:
British
Political party:
Labour
Spouse:

Jennifer Morris

Children:
None
Alma mater:

Cardiff University

Balliol College, Oxford

Occupation:
Politician
Religion:
None
Roy Jenkins was a british politician who served as Prime Minister (1973 - 1975). He previously served as Home Secretary, Chancellor of the Exchequer and Foreign Secretary.
Jenkins' period as Prime Minister was marred by crisis, beginning with the oil crisis of October 1973, the series of strikes that followed weakened his government considerably.
Early Life
Early Political Career
Jenkins was selected as the labour candidate for the safe tory seat of Solihull, and in one of the closest races of the election lost to the conservative candidate by 80 votes out of nearly 50,000 cast.
He entered Parliament at a 1948 by election for the safe labour seat of southwark central, becoming the youngest sitting MP or baby of the house.
His seat was abolished at the 1950 election, when he stood for the newly created seat of Birmingham Stetchford, a seat he was to hold for the rest of his parliamentary career.
He was one of the many, young, moderate labour MP's who backed the leadership campaign of Hugh Gaitskell at the 1955 labour leadership election.
Home Secretary 1965 - 1967
Chancellor of the Exchequer 1967 - 1970
He earned the reputation of being a strong and competant chancellor, and in 1969 was able to deliver a budget surplus.
Foreign Secretary 1970 - 1973
After the 1970 election Jenkins was moved to the foreign office. Wilson had at various times during the previous parlimament promised the office to Jenkins, Callaghan and Healey, and this created some animosity between the men.
Jenkins was responsible for gaining british entry into the EEC, he was by far the most pro-european cabinet member. Harold Wilson had hinted after the 1970 election that he would resign during the next parliament, and hinted that the October 1972 labour conference would be the time. Wilson remained quiet about the resignation issue after his reelection, and it was not until March 1973 that he announced he would resign in June.
Jenkins was the clear odds on favorite to suceed wilson, having served as Home Secretary, Chancellor and Foreign Secretary, he was one of only a handful of men to serve in three of the four great offices of state.
Prime Minister 1973 - 1975
On June 20th Jenkins kissed hands with the queen as Prime Minister. Upon entering downing street Jenkins began a major cabinet reshuffle. Callaghan moved from the Home Secretary to the Foreign Office, being replaced by Ted Short. The most siginificant move being Denis Healey returning - very reluctantly - to his old office of Defence Secretary, with Tony Crosland becoming the new Chancellor.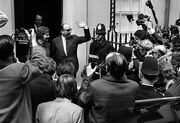 Jenkins Ministry 1973 - 1975
Prime Minister - Roy Jenkins
Chancellor of the Exchequer - Tony Crosland
Foreign Secretary - James Callaghan
Home Secretary - Ted Short
Post Prime Ministerial Career
Jenkins faced the majority of the blame for the election defeat, and was seen by many as a divisive leader. He remained leader until the labour party conference in October, when he announced he would resign as leader. He declined a position in Calllaghan's shadow cabinet.
He was again offered cabinet position's by both Callaghan and Healey in 1982 and 1988 respectivly, but both times he refused.
Ad blocker interference detected!
Wikia is a free-to-use site that makes money from advertising. We have a modified experience for viewers using ad blockers

Wikia is not accessible if you've made further modifications. Remove the custom ad blocker rule(s) and the page will load as expected.