Template loop detected: Template:Infobox Senator
Henry Ross Perot (born June 27, 1930) is the Senior United States Senator from Texas. He is the first billionaire elected to the United States Senate, with a net profit of $3.9 billion, making him the 85th richest man in the world. He was born in Texarkana, Texas.
Early Life
Perot was born on June 27, 1930 in Texarkana, Texas. As a boy, he was a Boy/Eagle Scout and was a veteran of the U.S. Navy (1949-1957). He married Margot Birmingham in 1956.
Business
In 1957 Perot became a salesman for IBM. He quickly became a top employee, but left the company in 1962 to found Electronic Delta Systems (EDS), which specialized in computerized medicare records. It went public in 1968, and Perot quickly amassed a fortune of over a billion dollars. In 1984, General Motors (GM) purchased the company in 1984, for $2.4 billion.
In 1974 Perot became the single biggest individual loser at the New York Stock Exchange (NYSE), losing $450 million. This is due to a drop in EDS stock in 1970 that never hurt Perot significantly until that day.
In 1979 prior to the Iranian Revolution, Perot joined the lucrative business of private military contracting (PMCing) and quickly gained back his fortune to become one of the richest and most successful PMC's of all time, at least definitely in the State of Texas.
In 1984, after GM purchased EDS, Perot purchased a 1215 copy of the Magna Carta, which was one of the very few to ever leave Great Britain. He donated it to the Smithsonian National Institute in 2007, where it is now cased next to the original, August 2, 1776 copy of the Declaration of Independence.
In 1988 (Plano, TX) Perot founded Perot Systems, Inc. His son, Ross Perot, Jr., became the CEO after Perot was elected to the U.S. Senate in 1994.
Early Political Activities
In 1979 Perot was appointed by Governor Bill Clemmons (D-TX) to head the Governor's drug policy team. Perot helped shape important legislation on the subject in Texas.
In 1983 Governor Mark White (D-TX) appointed Perot to the Governor's education policy team. Perot helped reshape and reform Texas' education system, making Texas one of the most educated states in the Union.
In the 1980's Perot became a spokesman for MIA/POW's in Vietnam, claiming that POW's were abused. In 1990, President George H.W. Bush appointed Perot to his Veterans' Affairs policy team, and Perot helped shape much of the veterans' entitlements enforced today by the federal government.
In the 1980s and 1990s Perot became an outspoken voice for reform in the federal government. He claimed that the government failed in keeping America #1 in the geopolitical stage.
In 1990 (Florida) Perot helped retired financial planner Jack Gargan put out newspaper advertisements demanding that Congress end legislative pay raises when normal peoples' wages were not increasing. The two later founded Get the Radicals Out (GTRO), a political action committee (PAC) aimed at reforming the U.S. federal government.
Perot harassed Maya Lin, architect of the Vietnam Veterans' Memorial, after is was revealed that she was Asian.
In 1990-1991 Perot successfully gained the support of several key Senators in opposition to the war in Iraq. The war happened anyhow and was a major success.
1992 Presidential Candidacy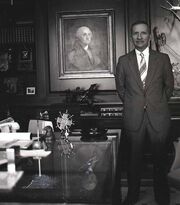 On February 10, 1992 Perot announced on CNN's Larry King Live that he was running as an independent candidate for President of the United States if his supporters could get him on the ballot in all 50 states. His platform included balancing the federal budget, protecting a woman's right to choose, expanding the War on Drugs, ending outsourcing of U.S. jobs to foreign nations, support for gun control, belief in protectionism when it came to trade, support for the EPA and enacting electronic democracy.
On May 25, 1992 Perot became the frontrunner, polling ahead of President George H. W. Bush and Governor Bill Clinton (D-AR). Pat Buchanan and Jerry Brown's campaigns were winding down, and Perot seemed the choice of the populist, anti-establishment crowd.
In the weeks before the two party Conventions Perot's supporters astounded the media by getting him on the ballot in all 50 U.S. states. He also gained support from Democrat Hamilton Jordan and Republican Ed Rollins.
In July Perot's supporters founded United We Stand America, a new organization aimed at enhancing "unity." Perot then announced that he wanted to increase gasoline taxes and make sharp cutbacks in Social Security.
On July 11 Perot made a racist comment at the NAACP Convention, causing a backlash in the new voter/African-American community.
A July 16 poll showed Perot with 39%, Bush with 31%, and Clinton last with 25%. Perot made a surprise announcement that he would drop out of the race for President, stating that members of the Bush Campaign were going to disrupt his daughter's wedding.
In September, Perot qualified for all state ballots. On October 1, Perot announced that he would not be reentering the race, but would instead challenge Senator Lloyd Bentsen (D-TX) in 1994. However, Perot remained on the ballot in 16 states. Former Vice-Admiral James Stockdale was listed as his Vice-President. In the end Perot received 1.4% of the vote. President Bush was reelected with 52.4% of the vote to Bill Clinton's 46.2%.
United States Senate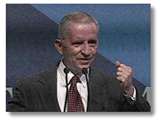 In 1994 Perot (running as an independent) defeated incumbent Senator Lloyd Bentsen (D-TX) with 45% of the vote to Hutchinson's 43%. Republican Kay Bailey Hutchinson won 11% while Libertarian Pierre Bordeau took 1%. In 1995, Perot founded the Reform Party, and defeated Kay Bailey Hutchinson with 65% of the vote to her 16.2% (Congressman Gene Kelly (D) won 16%).
Reform Party and 1996 Run
In 1995 Perot and his friend Pat Choate formed the Reform Party. They ran for President and Vice-President (respectively) the next year, winning 8% of the vote. The election was won by Senator Bob Dole (R-KS).
2006 Senate Election
On June 17, 2005 Kay Bailey Hutchinson announced that she was going to run for Governor of Texas while incumbent Governor George W. Bush (R) decided that he would challenge Perot in the Senate. This election, Perot was up against the immensely popular Governor George W. Bush (R), along with Gene Kelly again, and Libertarian Scott Lanier Jamieson. Perot barely scratched by, winning 43.9% to Bush's 43.8%. Kelley scored 11%, while Jamieson scored 1.3%. This was definitely Perot's hardest fought election.
Today
In 1998 Perot campaigned against Jesse Ventura, candidate for Governor (Reform-MN), endorsing Hubert Humphrey III. Jack Gargan did so, and was promptly removed as Chairman of the Party by the Reform National Committee (of which Perot is a prominent member, of course). Perot endorsed neither Pat Buchanan nor John Hagelin, both Reform Party candidates for President in 2000, but Senator Orrin Hatch (R-UT). The announcement was made on CNN's Larry King Live in the last few days of the election. This was a shock, due to Hatch's pro-life position and support for NAFTA.
During the Second Korean War, as he urged Senators to "vote rationally." He himself voted against the war. He remained an outspoken opponent of the invasion, and also opposed the War on Terror, especially the invasions of Iraq and Syria. He said, "Look at Sweden: they're been silent on foreign issues, and are a major power in Europe. Why can't America be more like them? Neutral, peaceful. It works. I say let's try it for once."
In 2005 Perot proposed the No Child Left Behind Act II, which provided technology (i.e. laptops) for high performing schools all around the nation. The bill passed with flying colors, and was signed immediately by President Bradley.
In 2008 Perot endorsed Republican Mitt Romney for President. Romney came in third in the general election, behind Senator Barack Obama (Progressive-IL) and Senator Joe Biden (D-DE) and ahead of Congressman Ron Paul (L-TX14).
Political Future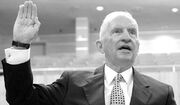 Perot says that he is contemplating a run for Governor of Texas in 2010. He says, however, that he will be retiring in 2012.
Family
Perot and his wife Margot have five children: Ross, Jr., Nancy, Suzanne, Carolyn and Katherine. As of 2007, the Perots have 15 grandchildren.
Honors
1988: Business Hall of Fame
April 22, 2009: Honorary Green Beret
May 2009: Honorary Member, OSS Society
September 18, 2009: Distinguished Alumnus, Texas High School, Texarkana, Texas
October 15, 2009: Sylvanus Thatcher Award
Ad blocker interference detected!
Wikia is a free-to-use site that makes money from advertising. We have a modified experience for viewers using ad blockers

Wikia is not accessible if you've made further modifications. Remove the custom ad blocker rule(s) and the page will load as expected.