Ronald Reagan

President of the United States

In office: January 1, 1977 - January 1, 1989

Preceded by:

Barry Goldwater

Succeded by:

Unknown

Governor of California

In office: January 1, 1971 - December 31, 1976

Preceded by:

Unknown

Succeeded by:

Unknown

Biography

Born:

February 6 1911


Dennering, Illinois

Died:

March 30 2004, Los Angeles, California

Nationality:

American

Political party:

Republican

Spouse:

Nancy Vermouth

Children:

Ronald

Alma mater:

University of Illinois

Occupation:

Actor, Soldier, Politician

Religion:

Christian
Early Life
Ronald Reagan was born into the influential Reagan family in 1911. In 1929 he entered the University of Illinois and studied law and geography. He was President of the student council and remained at the university until 1932. However upon leaving university he found it hard to get a job so he was forced to join the army so he could get enough money to look after his parents.
He enlisted in the army as a private in 1932 and served on garrison duty until 1936. In 1936 he was posted to Spain as a guard at the US embassy. In 1938 he discharged himself from the army and was able to get a job as a stagehand at several theatres in Chicago. His stage career was cut short when in May 1941 President Roosevelt ordered the army to mobilize, however Reagan volunteered, rather than wait to be conscripted and consequently was able to get a commission. In August 1941 2nd Lieutenant Reagan was posted to the military information bureau in Washington and spent the next two years there. But in 1943 the army began putting together an army film unit, and Reagan was able to get a posting to it. The film unit was largely responsible for newsreels and short propaganda films. In 1944 Reagan was promoted to Captain.
Upon his discharge, Reagan didn't return to his native Illinois. Instead he moved, with his family to Los Angeles. In 1948 Reagan was hired by Griffith Studios and appeared in minor roles in several films. In 1949 Reagan appeared in a minor role in the war epic "Tales from the Pacific". He continued to appear in secondary roles until 1952 when he met actress Nancy Vermouth. The two fell in love and got married. In 1954 Reagan continued his film career but he began losing secondary roles and instead got minor ones. He appeared in his last film in 1957.
Early Political Career
In 1956 Reagan had registered as a Republican to vote for Eisenhower. In 1960 he endorsed Kennedy but still made it clear he was a republican. After he left the acting career Reagan became a political spokesman, and chairman of the Los Angeles conservative association. In 1962 he ran for the republican nomination for governor of California, but lost to former vice president Richard Nixon. In 1964 he launched a nationwide campaign of "Republicans for Kennedy", in a bid to counter the republican nomination of Nelson Rockefeller (a man who Reagan hated intensely). Reagan launched another bid for the California governorship in 1966 but lost again to Nixon.
By 1967 Reagan was a well-known face of American conservatism, second only to
Barry Goldwater
. When in June 1967 Goldwater announced he would seek the presidency in 1968, Reagan immediately endorsed him, and spent the next year gathering support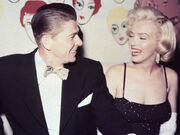 for him in the west. Some modern historian argue that Reagan had been put forward as Goldwater's vice president and that Reagan refused, desiring the presidency for himself.
In 1969 Reagan was behind the movement to arrest Governor Nixon, and launched a vocal campaign personally targeting him, ultimately forcing him to resign. Reagan, as the next best known republican in California easily won the Republican nomination for governor a year later, and won the election by a landslide.
Reagan was inaugurated as governor on New Year's day 1971, and received a personal letter of congratulations from president Goldwater. Reagan lowered state taxes, but cracked down hard on tax evasion. He launched a campaign to eradicate "Nixonist corruption" within state government, and preventing illegal interference by gangsters in politics. He introduced tax breaks for new businesses, encouraging a vast shift of businesses moving from the east coast to the west. Reagan also cracked down on some student dissent, and sent the national guard to occupy the west campus of San Francisco university in may 1972.
In 1971 Reagan was elected President of the American Christian association, a right wing religious group that had over 600,000 members. In early 1972 the association was renamed, the new right movement. The movement was bent on three main principles, conservatism, anti-communism and Christianity. The movement was in stark contrast to views of president Goldwater who, although a conservative, stood by the founding fathers principles of separating religion and politics. The movement encouraged Reagan to run against Goldwater for the presidency but Reagan refused outright, instead giving Goldwater his full support.
Reagan was reelected as governor in 1974 on a platform of further tax cuts. However Reagan was criticised for his authoritarian methods against illegal immigration and his privatisation of many state institutes.
1976 Presidential Election
In April 1975 Reagan announced he would seek the republican nomination for president, to succeed Goldwater. Reagan launched a nationwide campaign and polls showed he had strong support in the west, mid-west and mid-north, as well as strong support in the old northwest. Reagan faced challenges from Texas Governor Connelly and from Senator Gerry Ford. As the primaries began Ford and Reagan were neck and neck, but it was Reagan's support from the conservative associations and societies that proved crucial, giving him a definite lead in the later primaries. However Ford was able to win more support from electors. The nomination fell to the convention, which chose the charismatic Reagan over the somewhat bumbling Ford.
Reagan chose Kansas senator Bob Dole as his running mate, and seemed a strong opposition to the Carter/Glenn ticket. As August began and the debate season opened the running seemed neck and neck. Although Goldwater was still popular, many Americans saw Carter as a more moderate democrat, and Glenn was particularly popular. However Reagan was much more confident in presidential debates, and was able to win over voters in October, being able to focus his campaign on a renewed conservatism. Reagan's patriotic "God Bless America" TV campaign pulled in many southerners, digging deep into Carter heartland.
Reagan was able to win by a vast majority. Polling over 58% of the popular vote, and winning in 52 states.
First Term 1977 - 1981
Reagan's first term focused on economic issues. Reagan introduced tax breaks for small businesses and mirrored his policies as governor. He concentrated in building up the economy, supporting businesses and encouraging new ones to be formed. Reagan also announced an increase in defense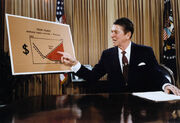 spending, and commissioned four new aircraft carriers to be built by private contractors. The US space program's funding was doubled.
Foreign policy was another key issue. Reagan maintained Goldwater's hard stance against the USSR and did battle with them in Proxy wars, including Persia (1978), Pakistan (1979) and the Manchurian uprising (1980 - 1982). Reagan also demanded the bombing of China, in 1977 and again in 1980. But Reagan's policies were not popular with all. In July 1979 dockyard staff went out on strike after privatisation proposals were brought forward. Reagan sacked all dockers that went on strike and then sold off the remaining docks owned by the public sector (apart from military ones).
1980 Presidential Election
Reagan's prospects of reelection were good, the economy was strengthening, his overseas military interventions had encouraged patriotic jingoism at home and his approval ratings were in the 60's. However, Reagan was not completely complacent. He began campaigning for the republican nomination in earnest from February 1980 onwards, allowing George Bush, his only real rival, to make significant gains (despite Reagan winning all but one of the previous primaries). But from March onward Bush's showing fell away, his campaigning style of not criticising Reagan, just portraying himself as better was thought of as weak by the midwesterners. However bush still had strong support in Texas and the "moderate northeast". By the time the Republican convention was held in August, the total popular vote was in favor of Reagan by roughly 4/5.
But this result was still not strong enough for Reagan, who privately felt he needed at least 95% of the republican party behind him to stand for a third term in 1984. On the evening of the first day of the convention Reagan and Bush met in private, and negotiated a deal that resulted in Bush being offered the vice presidency, and accepting. The next day Reagan announced that he had chosen Bush to be his vice president, to roars of support from the delegates and a 10 minute long standing ovation.
However Reagan faced stiff opposition from Ted Kennedy, the democratic nominee. Kennedy, the younger brother of the assassinated president, shared his brother's charisma and was a moderate. His running mate, Jerry Brown, was equally moderate. The 1980 campaign was the first democratic primary campaign that saw no challenge from the right of the party, gaining support for them in the north at the expense of the solid south.
Reagan and Kennedy had three TV debates, with both performing well and neither able to achieve the upper hand. By October opinion polls predicted Reagan on 54% compared to Kennedy's 46%, by November 1st this had become 52% for Reagan. This was not due to Reagan under performing, on the contrary, his approval ratings were the highest they had been all year (72%), but Kennedy's charisma and growing comparison to his late brother.
When election day came Reagan was reelected with 59% of the vote. This surprise landslide was due to 3 things, pro Kennedy opinion polls, Kennedy's liberalism losing the solid south to Reagan and the "shy presidential majority syndrome" that plagues close elections. Many pundits stated that Reagan's choice of Bush had gained him about 5% of the popular vote. Kennedy carried only a handful of east coast states.
Second Term 1981 - 1985
Reagan began his second term on January 1st 1981 by delivering his speech on the USSR. He stated:
The USSR is an evil empire, there have been many before, France, Rome, Germany, Italy, they all bear one thing in common. All of these empires have fallen, and I promise the American people that the foundations of the end of communism in Russia and around the world will be laid on my watch! I have therefore decided that the United States will begin a complete trade embargo with the Soviet Union as of today, and we shall ask our allies to do so too.
Reagan's fiery right wing rhetoric frightened many liberals and moderates and saw a slight dip in his approval ratings. The embargo though did eventually prove successful and contributed to the reformation process of 1984 - 85. On March 30th 1981 however everything changed. Whilst Reagan was on his way to speak at a public function at the Lincoln Hotel he was shot. At first it seemed that the bullets missed however a few minutes later it was discovered that a bullet had become lodged next to his heart. The bullet was removed in an operation later that day, and the president's life saved. After only 15 days in hospital Reagan was discharged, and resumed his full presidential duties.
1984 Presidential Election
Reagan had considered retiring the presidency and allowing bush to run in 1984, but he doubted Bush's ability to deal with the USSR now that the democratisation process had begun. He was also encouraged by increasing approval ratings and the democratic party's lack of the clear and popular leader that they'd had in 1980. He took the decision (without telling his cabinet or even vice president bush) to announce his decision to serve a 3rd term during his new years address in December 1983.

Reagan began campaigning immediately with a skilled television advertising campaign. He undertook a nationwide tour, visiting every state during March 1984.

Meanwhile the democratic primary turned into a bitter campaign between Walter Mondale and Gary Hart, it was not until June that Mondale finally triumphed, and saw a rejection of Hart's largely free market ideas. In an attempt to show unity Hart was offered the vice presidential nomination, but the decision backfired when Hart continued to espouse his own policies (including some contrary to the party platform).

Reagan trounced Mondale in the three presidential debates, and by October Mondale was polling only 41%. In the vice presidential debate Hart was more successful, making Bush appear distant and unconvincing.

On November 6th Mondale was resoundingly defeated, achieving only 34.5% of the popular vote compared to 60% for Reagan.
Third Term 1985 - 1989
Post Presidency
Ad blocker interference detected!
Wikia is a free-to-use site that makes money from advertising. We have a modified experience for viewers using ad blockers

Wikia is not accessible if you've made further modifications. Remove the custom ad blocker rule(s) and the page will load as expected.