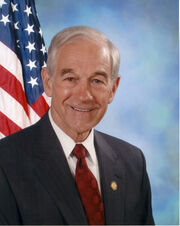 Ronald Ernest "Ron" Paul
(born August 20, 1935) in
OTL
is an American physician and Republican Congressman for the 14th congressional district of
Texas
. Paul is a member of the Liberty Caucus of Republican congressmen which aims to limit the size and scope of the federal government, and serves on the House Foreign Affairs Committee, the Joint Economic Committee, and the Committee on Financial Services, where he has been an outspoken critic of American foreign and monetary policy. He has gained notoriety for his right-libertarian positions on many political issues, often clashing with both Republican and Democratic Party leaders. Paul has run for President of the
United States
twice, first in 1988 as the nominee of the Libertarian Party and again in 2008 as a candidate for the Republican nomination.
He is the founder of the advocacy group Campaign for Liberty, and his ideas have been expressed in numerous published articles and books, including End The Fed (2009), and The Revolution: A Manifesto (2008).
Paul has the most right-wing voting record of any member of Congress since 1937.
Alternate versions of Paul have been discovered in the multiverse.
---
Ad blocker interference detected!
Wikia is a free-to-use site that makes money from advertising. We have a modified experience for viewers using ad blockers

Wikia is not accessible if you've made further modifications. Remove the custom ad blocker rule(s) and the page will load as expected.