I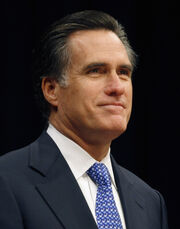 n a surprising win over President Obama, former governor and CEO
Mitt Romney
captured the U.S. Presidency on November 6, 2012. On January 21st, he took the Oath of Office and became the 45th President of the United States.
November 2012
Capturing critical swing states such as Ohio, Florida, North Carolina, and Virginia, the Republican challenger received enough electoral votes to ascend to the highest office in America. Analysts say Romney ran an energetic, positive campaign despite repeated distractions from his party in the last year. "I'm glad he stayed focused on the task at hand," said Fox News commentator Bill O'Reilly on November 7th. Mr. O'Reilly added that he has been a vigilant supporter of Mr. Romney's presidential bid since 2007. "I think we can all take a deep breath now," he continued,  "knowing that America's future is safe."
Ad blocker interference detected!
Wikia is a free-to-use site that makes money from advertising. We have a modified experience for viewers using ad blockers

Wikia is not accessible if you've made further modifications. Remove the custom ad blocker rule(s) and the page will load as expected.