Timeline: 2nd Punic Victory

Flag
Coat of Arms

Location of Roman Republic

Capital
(and largest city)
Rome
Other cities
Athens, Naples, Byzantium
Language
  official
 
Latin
  others
Greek
Demonym
Roman
Government
Representative Republic
  legislature
Senate
Consul
Population
97,255,130 
Currency
Aureus
The Roman Republic is a representative republic located in the northern Mediterranean. It is the oldest democratic country in the world and the oldest nation in Europe.
History
2nd Punic Wars
Alliance with Egypt and Expansion
3rd Punic Wars
Octavian's Rome
Rise and Fall
Colonial Era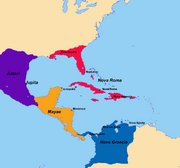 Roman Empire
Great European War
Government
Economy
Ad blocker interference detected!
Wikia is a free-to-use site that makes money from advertising. We have a modified experience for viewers using ad blockers

Wikia is not accessible if you've made further modifications. Remove the custom ad blocker rule(s) and the page will load as expected.