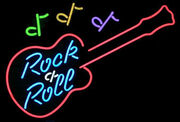 Electro-Country, devil music, country-up-tempo, all these names would name one important genre of American music. Rock music was inspired by the works of young country boy Eddie Cochran in 1954 and the rhythm and blues tracks that came out in the late '40s and early '50s in the south of the former USA. Country was also a major influence on the genre as it what was mixed in with the up-tempo beat that inspired many rock legends.
Rock before Rock
The most popular music in the Plains Union after WWII was country ld by Hank Williams. Country and soul/R&B dominated the radio waves. Country was what first inspired Eddie Cochran. Rock arrived at a time when bands were getting smaller and music was getting faster and more upbeat. The first rock song is often attributed to Hank Williams 1947 hit "Move It On Over" first produced by Prairie Records of Kansas City.
R&B was also popular not in the Plains Union but it was popular across the North American continent. The Union of American States contained the former US south while the Plains Union contained Louisiana. Louisiana was the Jazz state and so after WWII most Jazz and R&B artists went to Louisiana. This also inspired a greater blues revolution in St. Louis, this blues music would inspire future rock artist Chuck Berry. In 1951 a black group called Jackie Brenston and his Delta Cats would record "Rocket 88". "Rocket 88" was known as the first 50s rock song. ever made.
Rock becomes Mainstream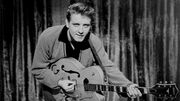 In 1954 a country and blues player named Eddie Cochran made rock history when he released "Twenty Flight Rock" on Blue Moon Records in Des Moines, Iowa. Instantly he was a hit and his first live performance in New Orleans on American Bandstand and the girls were screaming they loved him so much. His music spawned Rockabilly.
It was just hit after hit with this guy. Also that year a country western group called The Comets had also released "Rock Around the Clock". Kids across the former USA were singing the music and dancing to its quick beats. Into 1955 and 1956 the craze continued. Cochran had released more hits like "C'mon Everybody" and " Jeanie Jeanie Jeanie". In 1956 Cochran made music history when he released his teen anthem "Summertime Blues".
Also at the same Texan Buddy Holly and his Crickets had released there most famous hit, "That'll Be the Day".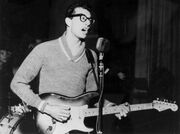 Buddy Holly was one of the most influential rock figures of the 50s. Buddy Holly and his band went on tour across the former USA. His music would be the bases for the "American Invasion" of the 60s.
Rise of Instrumentals
In 1958 Duane Eddy, a popular guitarist that was working with Northern Records in Montana began to popular the genre of instrumental rock. In Spring of that year he released his hit "Movin' & Groovin'". This was followed up by "Rebel Rouser" and then "Honky Tonk".
https://www.youtube.com/watch?v=K8 : Duane Eddy on the Dick Clark Show in Miami Beach, July 19th, 1958.
Also in 1958 a man named Link Wray and his Ray-Men released "Raw Hide". Instantly the song made Link Wray famous in the instantly. Other hits of his were "Jack the Ripper", and most importantly, "Rumble".
Fall of Rock
It all seemed to happen in a instant. Eddie Cochran was drafted into the army. Chuck Berry was arrested from allegations of sexual pedophilia. The Louisiana rocker Jerry Lee Lewis, thought to be Cochran's successor with his hits like "Real Wild Child", "Great Balls of Fire", and "Whole Lotta Shakin' Going On", Was blacklisted from radio after he married his 13 year old cousin. A Memphis singer known as Elvis Presley was killed touring in England in 1960. And on February 3rd, 1959, a plane crash took the lives of the two Texans Buddy Holly, Ritchie Valens, and the Floridian Charles "the Big Bopper" Richardson.
By late 1959 and into early 1960, pop artists like Danny and the Juniors, Dion and the Belmont's, and for his hit "Splish Splash" Bobby Darin became the major hits after Rock collapsed. This kind of music was known Doo-Wop for it was influenced by church soul choirs.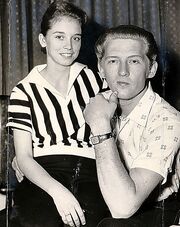 The world enters the '60s
Music by the early 1960s was mainly R&B hits and songs naming the different dance crazes at the time. There was really only 1 rock artists and that was a man named Roy Orbison. He had several hits like "Only For You" and in 1964 he had his greatest hit "Oh, Pretty Woman". James Brown was also gaining some success in Louisiana and had partnered with a young guitarist named James Marshall Hendrix.
In Florida things were heating up on the beaches. Surf Rock had originated in Florida following in the footsteps of Link Wray and the still successful Duane Eddy. Artist like Dick Dale and The Ventures produced anthems of the beach. The Ventures went on tour across the old USA hitting places like Texas, Mexico, and even Asian California where they enjoyed some success.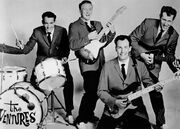 Up north in Montana the Kingsmen had success with there "drunk anthem", "Louie Louie". The distortion in the song helped it become a hit. That's why that kind of rock is known as garage rock due to its cheap sound.
The American Invasion
Europe had been largely devoid of American culture by 1964. The British Isles were the only place showing this with blues and rock bands doting across England and Ireland. The Goddard Show in Paris hosted by Jean-Luc Goddard was the first spot for the first American band and the start of the "American Invasion" of Europe. The band invited was The Monkees.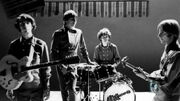 With the arrival of the Monkees other American bands entered Europe. Even some European bands got in on the act like The Rolling Stones. The Bobby Fuller Four came out of Texas, mainly the El Paso area with hits like "I Fought the Law" and "Let Her Dance". One group of garage rockers, Paul Revere and the Raiders went to Germany and Scandinavia to show the culture of the UAS. This band also toured in Indochina providing entertainment to the English, Canadian, and UAS volunteers in the French Foreign Volunteers fighting the Viet Cong.
Other bands included some English and Canadian bands who had adopted the American music. The Pitts (otherwise known as the Pittsburgh's) from the English speaking majority's in southern Quebec came out with "Wild Thing". Other hits included "Good Lovin" by The Rascals who were as bad as the Rolling Stones often destroyed their instruments on stage with the guitarist Gene Cornish claiming it was, "auto-destructive art". There was some old 50s artists making returns like Chuck Berry who in 1964 released "You Never Can Tell". Meanwhile Eddie Cochran was busy making movies, really dumb movies.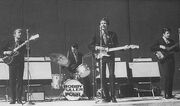 The Grass Roots Rock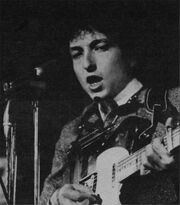 The genre of rock known as Folk Rock had began with The Byrd's from the now white minority of California when they had began singing harmony throughout the continent inspired by the Everly Brothers of the 50s and the Monkees of nowadays. There biggest hit was "Hey Mr. Tambourine Man" which was played on the 12 string guitar. But they didn't write it, it was written by a country/folk singer named Bob Dylan. Dylan had several hits before 1965 with "Blowin' in the Wind", his anti-war anthem "Master of War" from '63, "Hey Mr. Tambourine Man" in 1964 and in the same year, "The Times They are a-Changin'". It was in 1965 that Dylan had one of his biggest hits, "Like a Rolling Stone".
Dylan was totally different than other rock artists. People nowadays don't understand Dylan but back in 1965 he was like a rock'n roller. He was an American one who played on both electric and acoustic guitars. Other people tried to change their styles to at least get a Dylan-esc song in their albums. The Bobby Fuller Four in early 1966 released "A New Shade of Blue" while Glen Campbell and the Grass Roots released "Let Me Be".
Pschyadelia
The world was in turmoil by the late '60s. There was protests in the streets across the nations participating in the Indochina War. Jimi Hendrix had left America for Canada and founded a band with Canadian veterans from the war. Some of there most famous works were "Hey Joe', "Purple Haze", and a psychedelic cover of Bob Dylan's "All Along the Watchtower". In 1968 the Viet Cong and WDF forces launched the Tet Offensive. In 1969 a large rock festival was held in Rosenfeld, Manitoba and was refereed to as "Rosenfeld". Many bands like Credence Clearwater Revival, the Jimi Hendrix Experience, and most notable, Canadian Airplane with their anti-war song, "Volunteers". In 1967 a underground band in the UAS named Buffalo Springfield released "For What Its Worth". Other defining songs of Indochina conflict near its end in 1970 were chart topping acid and soul rock hits like "Piece of My Heart" by Big Brother and the Party Members from England and "The Letter" by the Bullet Casings from Mississippi. Other major hits  by 1970 included the 4 year old "Pyschotic Reaction" by the California Shoguns from San'noze in California. Another turning point in Pschyadelic rock was the hit from 1968 "Pictures of Plastic Aliens" by the Stalemate.
Fly Like an Eagle: the 1970s
Bigger bands or groups and Hopes Die Last 2004-present
When bands remain the same number of members and now bands grow bigger
Hopes Die Last is a Italian post-hardcore bands consists 10 members Nicolo Arquilla Marco Calanca Ivan Panella Marco Mantovani Jacopo Ianariello Luigi Magliocca Daniele Tofani Valerio Corsi Yuri Santurri Danilo Menna.
In 2009 original band members get along just fine and new members added
Band members
Nicolo Arquilla 2004
Marco Calanca 2004
Ivan Panella 2004
Marco Mantovani 2004
Jacopo Ianariello 2004
Luigi Magliocca 2008
Daniele Tofani 2009
Nekso 2012
Danilo Menna 2015
Yuri Santurri 2015
Ad blocker interference detected!
Wikia is a free-to-use site that makes money from advertising. We have a modified experience for viewers using ad blockers

Wikia is not accessible if you've made further modifications. Remove the custom ad blocker rule(s) and the page will load as expected.