Robert Taft (Election 1952)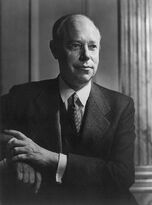 Robert Alphonso Taft was a product of one of America's most prominent political families. He was the grandson of Attorney General and Secretary of War Alphonso Taft, and the son of President and Chief Justice William Howard Taft and Helen Herron Taft.
Taft was elected to the first of his three terms as Ohio Senator in 1938.
In 1952 Taft won the Repulican nomination for President in a heated contest between himself and Dwight Eisenhower.
Taft ultimately lost the Presidential Election to Adlai Stevenson.
Taft died at the age of 63 on July 31, 1953.
Ad blocker interference detected!
Wikia is a free-to-use site that makes money from advertising. We have a modified experience for viewers using ad blockers

Wikia is not accessible if you've made further modifications. Remove the custom ad blocker rule(s) and the page will load as expected.