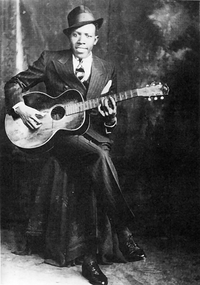 Robert Johnson was a (probably fictional) American Blues guitarist, active in the 1920s and 1930s. Very little is known of his life: he may have been a real individual, or an amalgamation of several contemporary performers, or even a completely legendary figure.
The details of Johnson's life are only known because they were retold by Muddy Waters, the Grandfather of Rock and Roll, who listed Johnson (along with Son House) as one of his major early influences.
Ad blocker interference detected!
Wikia is a free-to-use site that makes money from advertising. We have a modified experience for viewers using ad blockers

Wikia is not accessible if you've made further modifications. Remove the custom ad blocker rule(s) and the page will load as expected.