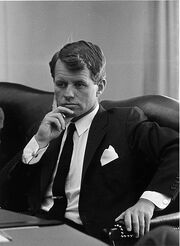 Robert Francis Kennedy
(November 20, 1925 - July 2, 2005) was the thirty-seventh President of the United States, serving for two terms, between 1969 and 1977. He is most noted for ending the US - Cuban Conflict in 1969, and later opening diplomatic relations to China, and the USRCV. His older brother,
John F. Kennedy
was the Vice President of
Orson Welles
, and later a presidential candidate himself, before being shot in England. His younger brother,
Ted Kennedy
was also in politics, serving as a Democrat senator, and later Vice President, between 1989 and 1993, under President
Walter Mondale
. His nephew,
John F. Kennedy, Jr.
was the Secretary of State between 2005 and 2009, and is currently a Democrat presidential candidate.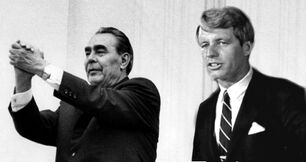 Ad blocker interference detected!
Wikia is a free-to-use site that makes money from advertising. We have a modified experience for viewers using ad blockers

Wikia is not accessible if you've made further modifications. Remove the custom ad blocker rule(s) and the page will load as expected.