PoD: The Battle of the Coral Sea is a massive defeat for the Allies. Meanwhile, Japan manages to capture Port Morseby and New Caledonia paving the way for an invasion of Australia as the Chinese front is halted. This details the Australian Campaign of WWII.
1942
May: Allied defeat in the Coral Sea, two fleet carriers sunk, Australian fleet destroyed, way opened for an invasion of New Caledonia.
June: Continued bombing of Darwin. Midway is occupied by Japan after an American defeat.
Japanese patrol vessels and recon aircraft scout places to land in Northern Australia in case of invasion. General Tomoyuki Yamashita is put in command to lead an invasion of Australia as Japanese planners try to figure it how to knock Australia out of the war.
July: Australia figures out that Japan is planning an invasion. The Brisbane Line is set up, Australian planner plan to leave the North to the Japanese and if Brisbane falls, retreat to guerrilla warfare in the outback. Prime Minister Curtin orders militias to form in preparation.
August: Wellington is raided by a Japanese carrier group. New Zealand prepares for invasion. New Zealand National Militia formed.
September: Japan starts amassing troops in Java and Papua New Guinea. Japan halts any offensive in China and starts diverting troops from Malaya and Thailand.
October: Japan has amassed 300,000 soldiers in Indonesia with hundreds of transport ships.
November: Operation Minamikaze is launched. Japanese force land 10,000 soldiers around Darwin with a small amount of armored support. Darwin is encircled. The people are forced to build barricades for the possible Australian counter-attack. The local militia gathers 3 days after the invasion and with mainly rifles and older weapon, they attack the outskirts of Darwin. After several hours of fighting the militia force is completely destroyed. The Militia casualties out of 1000 readied men. 90% of the force is killed. 12 are wounded 20 captured, the rest are survivors.
December: More tanks such as the Ha-Go and Chi-Ha tanks arrive via the docks in Darwin. With 100,000 soldiers Japan starts to advance from Darwin across the Northern territory. Japanese forces secure Katherine. The Australian army and militia counter attacks while Japan was halfway from Borroloola.
1943
January: Allied soldiers from across the world begin arriving in Australia. Soldiers from the Raj, South Africa and even Madagascar arrive. The ANZAC corps from North Africa is transferred back to Australia and enter via the port of Perth.  American marines land in New Zealand. The US pacific fleet now has 2 more carriers after being produced in the New York Shipyards. The Australian sentinel tanks and Chi-Ha's clashes in the Outback. Other tanks such as the Kangaroo (Australian version of the M3 Stuart) and the M3 Lee start to be produced.  The New Zealand army is also shipped via Melbourne. A small detachment of Sherman tanks also arrive. These tanks will be produced as Mk.III ANZACs.
February: Australia's delayed withdrawal to Brisbane continues. Militiamen trapeed behind enemy lines start a guerrilla campaign. More defeses are prepared around Brisbane. 
March: The US makes plans to retake Midway. Most of the area around the Gulf of Carpentaria has been captured.
April: More Allied soldiers arrive in Australia. Chilean and Peruvian troops arrive along with more Colonial soldiers.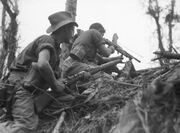 May: Japan decides in order to knock out Australia it will invade around Brisbane as Japanese intelligence points out that Melbourne and Sydney are more important for the Australians.
June: More defenses are prepared around Brisbane. The US fleet moves to retake Hawaii from Japanese occupation.
July: Australian army counterattacks near Walla Walla, Japan secures the Cape York Peninsula.
Ad blocker interference detected!
Wikia is a free-to-use site that makes money from advertising. We have a modified experience for viewers using ad blockers

Wikia is not accessible if you've made further modifications. Remove the custom ad blocker rule(s) and the page will load as expected.