Richard Thorpe
(Born January 11, 1973),  is a member of the U.S. House of Representatives, representing Idaho's 2nd congressional district, as well as a candidate for the Republican Party presidential primaries of 2016.
Born from a Taiwanese mother, Thorpe is an Asian-American. He was raised into the Jehovah's Witnesses, as both his parents were members of the Sect. He, however, quit them when he reached 18.
Prior to his political career, he was a lawyer. In 2000, he married Sharon Bailey, with who he had two children: Alex (2003) and Katlyn (2007).
Biography
Early Life
Richard Thorpe was born the 11th January 1973, in San Diego, California. He is only child of Clint Thorpe Jr. and Victoria Mei, a Taiwanese immigrant who arrived in the USA shortly after the establishment of Taiwan.
Both his parents were members of the Jehovah's Witnesses. Because of this, he was raised as part of this community. However, this caused him to feel excluded from the rest of his classmate during his youth, especially when it came to religious celebration. He also felt heavily controlled by the group. Because of this, he quit the Jehovah's Witnesses when he reached the age of 18, and never saw his family again.
This experience among the sect caused him to reject organized religion, and although he still believed there had to be a single God, he was not sure if any religion had it right, which led to him seeing himself as an Agnostic.
College and Career as Lawyer
After quitting California, Thorpe went to live in Idaho to continue his studies. He would later enter the University of Idaho in Law, hoping to become a lawyer, expressing a desire to help the system to send criminals behind bars.
During his time at the University of Idaho, he met Sharon Bailey, who was studying in psychology, after he was forced to go with her on a double date. They later met frequently, and ended up dating by 1995.
He ended his studies in 1999, and opened with his friend their own lawyer agency. During the celebration for the one year anniversary of his job, he proposed to Sharon, and they married in late 2000. During his three years as lawyer, he never lost a case.
Political Career
Following 9/11, Thorpe became more vocal about his opinion on criminality, expressing a desire to protect the Americans against crime and terrorism. After hearing one of his speech, members of the Republican Party proposed him to run for congress, which he did. Using the fear of terrorism to his advantage, he was easily elected in 2002.
From 2002 to 2008, Thorpe was the member of numerous committees, and helped to pass numerous laws to protect the country. He was well appreciated by the party, and became close with Speaker of the House Michael Wells.
When the election came in 2008, Thorpe faced his most difficult election so far, as the Republican were less popular than before due to the Recession. Because of this, he had an hard time promoting the Republican Candidate, Michael Wells. Although he was reelected, the Republican lost the election. During the eight years under the Conroy administration, Thorpe became one of the most hardened republican of the congress, and was soon identified as one of the prominent figures of the right wing in the party.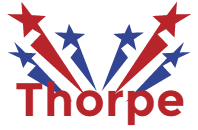 2016 Presidential Bid
When he watched his party, Thorpe only saw the shadow of its former self, and was opposed to all those moderate ideas that many members of the party harbored. Because of this, he decided to present himself as a candidate for the Republican Presidential Nomination. His main politics are based on aggressive policies against terrorism and fighting criminality in the country.
Personal Life
During his years in College, he met Sharon Bailey. They began dating in 1995. The couple married in 2000. They had two children together: Alex (b.2003) and Katlyn (b.2007).
In an interview in 2009, Thorpe expressed his status as an agnostic, explaining he believed in an unique God, but that he didn't believe that organized religions had it right, as if the message of god had been "twisted by men". According to him, both his wife and children are Lutherans, and the family go to church every week, even if Thorpe doesn't agree with his local priest.