Richard Nixon

35th President of the United States
In office:

January 20, 1961 - January 20, 1969

Preceded by:
Dwight D. Eisenhower
Succeeded by:
Robert F. Kennedy
36th Vice President of the United States
In office:

January 20, 1953 - January 20, 1961

Preceded by:
Alben W. Barkley
Succeeded by:
Henry Cabot Lodge Jr.
United States Senator from California
In office:

December 4, 1950 - January 1, 1953

Preceded by:
Sheridan Downey
Succeeded by:
Thomas Kuchel
Biography
Born:

January 9 1913, Yorba Linda, California, U.S.

Died
April 22 1994, New York City, New York, U.S.
Nationality:
American
Political party:
Republican
Spouse:

Pat Ryan

Children:
Tricia, Julie
Alma mater:

Whittier College

Duke University

Occupation:
Lawyer, Politician
Religion:
Quaker
Richard Milhous Nixon (January 9, 1913 - April 22, 1994) was the 35th President of the United States from 1961 to 1969. Nixon had previously served as a Republican U.S. Representative and Senator from California and as the 36th Vice President of the United States from 1953 to 1961.
Nixon was born in Yorba Linda, California. He graduated from Whittier College in 1934 and Duke University School of Law in 1937, returning to California to practice law. He and his wife, Pat Nixon, moved to Washington to work for the federal government in 1942. He subsequently served in the United States Navy during World War II. Nixon was elected in California to the House of Representatives in 1946 and to the Senate in 1950. His pursuit of the Alger Hiss case established his reputation as a leading anti-Communist, and elevated him to national prominence. He was the running mate of Dwight D. Eisenhower, the Republican Party presidential nominee in the 1952 election. Nixon served for eight years as Vice President.
Nixon succeeded Eisenhower as President after a close and controversial election, the first incumbent Vice President to accede to the Presidency by an election since Martin van Buren. On foreign affairs Nixon was a staunch anti-Communist and internationalist. The 1961 Bay of Pigs invasion saw the collapse of the Communist regime in Cuba. Nixon's presidency also saw major reforms with regard to domestic affairs, with the 1963 Healthcare Act and the 1964 Civil Rights legislation having major effects on American society (although it would be under Robert Kennedy that full equal rights for African-Americans was achieved).
He was reelected by a landslide in 1964, however his second term was far less successful than his first. As the Vietnam War escalated rapidly through 1964 to 1967, Nixon was demonised by the anti-war movement.
In retirement Nixon's work as an elder statesman, authoring twelve books and undertaking many foreign trips helped rehabilitate his image.
Nixon faced further problems when summer riots broke out in most cities after 1965, and crime rates soared. While he began his second term with an 85% approval rating, by the summer of 1968 he was the most unpopular President in modern american history.
Early Life
Early Career, marriage and war service
Rising Politician
1960 presidential election
In 1960 Nixon announced his intention to seek the Republican nomination for the Presidency. He faced no real opposition in the primaries. He chose former Massachusetts Senator Henry Cabot Lodge Jr. as his running mate.
Presidency 1961 - 1969
Richard Nixon was sworn in as the 35th President President at noon on January 20th, 1961. In his inaugural address he said "The greatest honour that can be bestowed on any man, is that of peacemaker".
Foreign Policy
Cuba and the Bay of Pigs Invasion
One of the most significant events of Nixon's first term occurred within his first year in office.
Latin America and Communism
The Nixon administration continued the attitude of the Eisenhower administration with regards to Latin and South America, any regime was preferable to a Communist regime.
Southeast Asia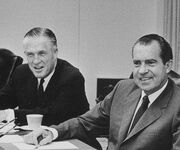 Domestic Policy
Social Policies
Immigration
Civil Rights
1964 presidential election
Nixon announced in December 1963 his intention to run for a second term. He faced no real challenge for the Republican nomination, and won unopposed except for write in candidates.
Second Term, 1965 - 1969
1968 presidential election
Administration and Cabinet
| Office | Name | Term |
| --- | --- | --- |
| President | Richard Nixon | 1961 - 1969 |
| Vice President | Henry Cabot Lodge Jr. | 1961 - 1969 |
| Secretary of State | C. Douglas Dillon | 1961 - 1965 |
| | Nelson Rockefeller | 1965 - 1969 |
| Secretary of Treasury | Robert McNamara | 1961 - 1965 |
| Secretary of Defense | Robert B. Anderson | 1961 - 1965 |
| | Robert McNamara | 1965 - 1968 |
| | Melvin Laird | 1968 - 1969 |
| Attorney General | John N. Mitchell | 1961 - 1969 |
| Postmaster General | | |
| Sercretary of the Interior | | |
| Secretary of Agriculture | | |
Later years and death
Legacy
Ad blocker interference detected!
Wikia is a free-to-use site that makes money from advertising. We have a modified experience for viewers using ad blockers

Wikia is not accessible if you've made further modifications. Remove the custom ad blocker rule(s) and the page will load as expected.