The Rex Strong film series is a series of films about US special agent Rex Strong.
Origins
Former military intelligence officer Daniel Kleber (1910 - 1966) began writing a series of short stories based on fictional spy, Robert Strong, whilst on service during the war. These stories developed and in 1945 finally began appearing in Yank magazine. From Mid 1946 the stories featured in every edition and when Kleber left the service in 1948 he began compiling the short stories into volumes and began writing more. By 1950 he had written 40 short stories and approached Walthaus Publishing to publish them. Walthaus agreed on condition that Kleber write a 12 story volume every six months. Kleber did so. The stories soon became hits and Kleber became very wealthy, in 1952 he hired a team of writers to lengthen the stories into full in depth novels. Kleber began filling in every detail of Strong's life, his age, his personality.
In 1955 Kleber was first approached by Columbia Pictures for the rights to Strong, character and stories. Kleber refused, stating that he would only sell the stories rights' and not the rights to the character and the name, and that the offer for the stories was too low. Kleber continued producing the short stories until 1956 when he was approached by an individual as opposed to a company. The man was Charlie "Chub" Corleone, a film producer only a year older than himself who saw potential in the film. Corleone agreed with Kleber to make a Strong film that he would produce and that Kleber would write a script for, the two decided to hire a director. They also decided that they would split the profits 60/40 with Kleber receiving the greater half.
John Grant Era
Corleone began the search for the two key people, a good director and a good Robert Strong. Corleone's suggestions for both roles read like a who's who of Hollywood stars with David Bentley and Jack Harrison as possible directors and Gregory Peck, Michael Collins, Pat Richards and Kurt Douglas as Strong. By July 1956 they had hired Fred McDowell as director but still couldn't find the right Strong. Peck was sent the script but turned it down, Collins and Richards weren't acceptable to Kleber, but Douglas was. Douglas even accepted the script and was due to sign a contract but was bought off by Columbia who were determined to get Kleber to sign a deal with them. After months of indecision Corleone by chance bumped into John Grant, an actor six years younger than Douglas but one that Corleone thought had potential and that Kleber thought "resembles Strong so much that...hell..he is Strong".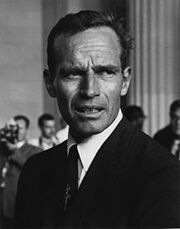 Grant was hired in November and in December 1956 shooting began on Secrets of Echo Cove, Kleber's first short story and his favorite. The film is also the one with the most input by Kleber who was slowly being sidelined. Kleber personally edited much of the film although Corleone later admitted that he thought "the guy just wanted his story told, we could've put way much more into that movie, it was just so tight and he didn't give me or McDowell much space to do our thing". However the film turned out to be a massive success, with Grant and McDowell signing on for another two films. Just before shooting of the first film began, the title became the subject of a deep feud between Corleone and Kleber. Corleone insisted that Robert Strong's name be changed to Rex. The two argued for weeks until John Grant declared that "I will be REX Strong, it will be REX, REX and always REX". Kleber reluctantly agreed.
Code name Raven also proved a success, combining cleverly choreographed action sequences with a deep and intriguing plot. The 3rd film, At Midnight, was filmed at the same time and the films were released exactly six months apart. They were extremely successful and At Midnight became the highest grossing film of 1961. Strong films 2 and 3 were made on a budget three times as big as Secrets of Echo Cove. Following this success Grant signed on for another six years, whilst McDowell left the project. Kleber thought the next film should be Rear Window, a suspense thriller that could be made in a matter of months and on a very small budget. However, Corleone wanted to bring in new writers to come up with a completely new plot, based on several Strong short stories and featuring a whole new style. Kleber threatened to pull the plug on the project, however, he was talked out of it by Corleone who promised that Rear Window would be made later. The new project was to become the so called "Chubby Trio" of Dr Duvall, Zero Hour and Love from Quebec. Corleone was able to form KCStudios with Kleber and begin funding other projects. These three films were shot in 1962-64 and were shot by three different directors and with three different crews, but with the same actors.
By the time filming on Love from Quebec finished in July 1964 Grant considered leaving the project in the middle of his contract, but was recovered by Corleone when he promised that the next film would be the promised Rear Window, that required little time and only a few action sequences.
In May 1965 Love from Quebec was released and filming of Rear Window began a week later. The film is considered by many film critics to be the finest of the series and the most poignant. Yet Kleber was never to see it released. He died in January 1966, two months before the premiere. After the loss of Kleber, Corleone agreed with Grant that only one more Rex Strong film should be made, but that it should be considered the greatest.
Filming on The Final Assault began in March 1966, and included shooting in many exotic locations and featured many leading foreign actors and actresses. Yet the film was not as successful as anticipated and Corleone swore he would never make another Strong movie, he retained the studios but instead largely sponsored director Adam Maine and his thrillers.
Clint Eastwood Era
Corleone maintained his views for another two years. But in 1969 he was approached by universal studios. They offered him $12 million for the rights to Rex Strong and Kleber's books. Corleone, declined the offer, seeing that if universal were interested that their was still potential in the character.
He proposed the idea to Grant, who he intended to return as Strong, but he refused outright. Corleone then approached Clint Eastwood, a rising Hollywood star renowned for his roles in war films and westerns. Eastwood immediately accepted, citing genuine excitement in the part as his reason rather than money. Eastwood signed for a series of four films, with the possibility of another 2 if they were successful. The films chosen were Diamond Fever, Devils Advocate, Dirty Harry and Nimrod. Diamond Fever began filming in January 1970, and featured much more action than the original films. Devils Advocate and Dirty Harry were both shot at the same time in summer 1970 and released in March and November 1972 respectively. All three of the so called "D Trilogy" met with popular and critical acclaim, becoming much less politicised than the earlier films, and much less sexual and exploited than those of Eastwood's successors.
Eastwood's next appearance was in 1974, but Nimrod was less successful. He agreed to his extended contract, with Escape from Fennzio and Live and Let Die being made. Both are not as memorable as the earlier films and, although a commercial success, did not have the lasting cultural impact at the "D Trilogy".
Both Corleone and Eastwood agreed that the latter should retire from the series, and that it needed a new face to resurrect the series.
Harrison Ford Era
Two Days after Eastwood publicly announced that he was retiring, Corleone announced that young actor Harrison Ford had been selected as the next incarnation of Strong.
Mel Gibson Era
List of Films
1958 - Secrets of Echo Cove
Special agent Rex Strong must investigate strange strange sightings from the mysterious echo cove. He discovers a brutal plot to destroy the world.
1960 - Code name Raven
When US intelligence commander General Dawson is shot dead, he says only one word, Raven. Rex Strong discovers a complex web that leads him halfway across the world to a dangerous foriegn power that want only one thing, world domination!
1961 - At Midnight
Strong heads for the Caribbean to help a small island democracy defend itself against a barbarous terrorist group.
1963 - Dr Duvall
When a bomb goes off in a New York shopping mall and a mysterious villain known only as Dr Duvall claims responsibility, Strong is called in to locate and kill.
1964 - Zero Hour
Strong is given 100 hours to discover who leaked some secret documents and finds a paper trail that leads him to a new enemy PROSPERO.
1965 - Love from Quebec

Strong is dispatched to Quebec to capture a suspected traitor, he discovers this to be untrue and falls in love with the so called traitor. However he discovers a plot afoot and leads him back to PROSPERO.
1966 - Rear Window
Strong is recuperating from injuries sustained in action, however when he sees a murder, and he is the only person who believes it was committed, he must go solo to catch the culprit.
1967 - The Final Assault

When PROSPERO kills his controller Strong joins together with Indian, Japanese and Spanish agents to track down and finally annihilate PROSPERO.
1971 - Diamond Fever
Numerous diamonds are being stolen from America's rich and powerful. Strong is told to follow the trail that leads him to some very unsavoury people.
1972 - Devils Advocate
1972 - Dirty Harry
1974 - Nimrod
1976 - Escape from Fennzio
1977 - Live and Let Die
1979 - Sabrina
Catchphrases
Ad blocker interference detected!
Wikia is a free-to-use site that makes money from advertising. We have a modified experience for viewers using ad blockers

Wikia is not accessible if you've made further modifications. Remove the custom ad blocker rule(s) and the page will load as expected.