This is the Portal Page for Revolution! Or, A Victorian Cold War.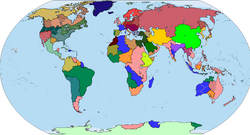 This TL focuses on an alternate Cold War that started in the 19th century during an alternate formation of Germany in the 1870s,by Czarist Russia. The implications of an early Cold War change world history qute a lot, but still leaves us with a world quite similar to our own.
Contributions are welcome! Just put your ideas in the Talk page and I'll have a look at them.
Contents
Leaders
Contributers
Things to work on (In any order, Timeline has highest priority however)
Timeline
Maps
Nations
Tech and Media pages (Films, Video Games, Computers, Space Travel etc)
Leaders
Flags
Alternate Destinies (Quebecois Stephen King?)
Notes
This will be considered ASB (for various reasons) Even though this TL isn't plausible, I've just wanted to create an interesting scenario that is inspired by other ASB and Non-ASB scenarios on the Wiki and other websites.
Ad blocker interference detected!
Wikia is a free-to-use site that makes money from advertising. We have a modified experience for viewers using ad blockers

Wikia is not accessible if you've made further modifications. Remove the custom ad blocker rule(s) and the page will load as expected.