Ad blocker interference detected!
Wikia is a free-to-use site that makes money from advertising. We have a modified experience for viewers using ad blockers

Wikia is not accessible if you've made further modifications. Remove the custom ad blocker rule(s) and the page will load as expected.
The following New Union page is under construction.

Please do not edit or alter this article in any way while this template is active. All unauthorized edits may be reverted on the admin's discretion. Propose any changes to the talk page.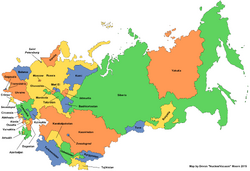 The subjects of the Soviet Union (Russian: субъекты СССР, sub"yekty SSSR), colloquially known as union subjects (субъекты союза, sub"yekty soyuza, lit. "subjects of the union") are the top-level constituent entities within the Union of Soviet Sovereign Republics. The Soviet Union currently comprises of 38 union subjects, which includes 34 union republics (союзные республики, soyuznyye ryespubliki) and four union cities (города союзного значения, goroda soyuznogo znachyeniya; lit. "cities of union significance").
Some republics of the USSR contain within them autonomous republics. The union subjects and autonomous republics are subdivided into oblasts and rayons (which can vary).
Republics
| Flag | Republic | ISO | Capital | Area (km²) | Population |
| --- | --- | --- | --- | --- | --- |
| | Abkhazia | AB | Sukhumi | 8,665 | 1,102,628 |
| | Alania | AN | Karachayevsk | 15,054 | 453,659 |
| | Artsakh | AR | Stepanakert | 5,018 | 710,845 |
| | Azerbaijan | AZ | Baku | 81,582 | 10,218,159 |
| | Bashkortostan | BA | Ufa | 142,947 | 5,135,627 |
| | Belarus | BY | Minsk | 207,595 | 12,182,167 |
| | Buryatia | BU | Ulan-Ude | 408,650 | 2,147,426 |
| | Chuvashia | CU | Cheboksary | 18,300 | 2,004,099 |
| | Circassia | AD | Maykop | 25,014 | 3,158,857 |
| | Cossackia | KA | Novocherkassk | 236,744 | 13,663,825 |
| | Crimea | KM | Simferopol | 26,081 | 4,860,990 |
| | Dagestan | DA | Makhachkala | 50,270 | 3,785,416 |
| | Gagauzia | GA | Comrat | 2,506 | 580,721 |
| | Kalmykia | KL | Elista | 74,731 | 1,000,026 |
| | Karakalpakstan | QR | Nukus | 164,900 | 2,063,800 |
| | Karelia | KR | Olonets | 193,247 | 2,597,154 |
| | Kazakhstan | KZ | Alma-Ata | 2,718,538 | 23,050,250 |
| | Komi | KO | Syktyvkar | 449,544 | 1,846,927 |
| | Kyrgyzstan | KG | Bishkek | 199,951 | 7,238,184 |
| | Mari El | ME | Yoshkar-Ola | 23,375 | 1,348,895 |
| | Mordovia | MO | Saransk | 26,128 | 1,060,545 |
| | Ossetia | OS | Java | 11,887 | 1,905,823 |
| | Russia | RU | Vladimir | 2,584,391 | 61,166,899 |
| | Siberia | SB | Krasnoyarsk | 9,471,596 | 44,729,663 |
| | Tajikistan | TJ | Dushanbe | 143,100 | 8,657,425 |
| | Tatarstan | TA | Kazan | 67,847 | 5,092,933 |
| | Transnistria | PM | Tiraspol | 4,163 | 961,875 |
| | Turkmenistan | TM | Ashkhabad | 491,210 | 5,988,619 |
| | Tuva | TY | Kyzyl | 168,604 | 741,910 |
| | Udmurtia | UD | Izhevsk | 42,061 | 1,769,903 |
| | Ukraine | UA | Kiev | 576,468 | 53,491,584 |
| | Uzbekistan | UZ | Tashkent | 284,078 | 39,051,762 |
| | Vainakhia | VA | Grozny | 19,332 | 2,168,372 |
| | Yakutia | SA | Yakutsk | 3,083,523 | 1,513,971 |