This 1983: Doomsday page is a Stub.
Even though it is part of the 1983: Doomsday Timeline, its creator or creators have more work to do before it can be complete. You are welcome to give suggestions at the Talk Page.
The Republic of Superior Air Force (RSAF), formerly known as the Republic of Superior Army Air Force (RSAAF), is the aerial warfare branch of the R.S. armed forces. Initially part of the Republic of Superior Army, the RSAF was formed as a separate branch of the military on May 20th 2002 under the National Security Act of 2002. It is the most recent branch of the R.S. military to be formed.
The RSAF has 66 manned aircraft in service. The RSAF has 800 personnel on active duty, 200 in the Air National Guard, and another 100 in the Air Force Reserve as of December 2008.
The Department of the Air Force is headed by the civilian Secretary of the Air Force who oversees all administrative and policy affairs. The Department of the Air Force is a division of the Department of Defense, headed by the Secretary of Defense. The highest ranking military officer in the Department of the Air Force is the Chief of Staff of the Air Force.
Mission
Search and Rescue
These missions are used to rescue soldiers in downed areas deemed as "HNZ", or "Hostile No-Man's Zones". If an air rescue is deemed impossible or will take a long time small aircraft will be deployed to direct the soldiers to the safest area to hold up until a rescue is deemed possible.
Air Sovereignty
All aircraft flying into HNZ are deemed as sovereign territory of the Republic. Should they land in a nearby HLZ the following one-fourth sq km is deemed temporary sovereign base territory of Superior until either the aircraft leave or the area turns into an actual territory.
Irregular Warfare
While this has not happened to date, soldiers are trained for the event they encounter other aircraft in flight.
History
The Republic of Superior Air Force was officially formed on the foundation of the Republic of Superior.
Organization
Administrative Organization
The RSAF is governed by a two-tier system, the first being the RSAF Chief of Staff and the RSAF Fighter Command.
Force Structure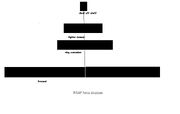 Operational Organization
The RSAF is a well equipped force and is based on the old USAF.
Commander, Air Force Forces
Air Operations Center
The Air Operations Center is Located in Mackinaw City.
Personnel
Commissioned Officers
Approximately 100 personnel
Enlisted Airmen
Uniforms

Badges
same as the USAF
Awards
Order of Merit
Purple Heart
Training
Enlisted personnel are expected to do 6 months at flight school before they can start training.
Equipment
Name
Type
Versions
Quantity
Picture
F-16 Fighting Falcon
Multi-Role Fighter
F-16A
F-16B
9
17
A-10 Thunderbolt II
Attack Aircraft
A-10A
10
C-5 Galaxy
Cargo Aircraft
C-5A
9
UH-1 Iroquois
Multipurpose Helicopter
UH-U1
23
Culture