Republic of Cuba
Republica de Cuba
— Occupied Zone of United Republics —
Timeline: Night of the Living Alternate History
OTL equivalent: Cuba
Capital
(and largest city)
Havana
Other cities
Holguin, Santiago
Language
  official
 
Spanish
  others
English
Religion
Catholicism
Population
12,875,342 (2000 Census) 
Established
2002 (Republic of Cuba)
Admission
1999 (Occupied)
Currency
Cuban Peso
Time zone
UTC -5
Abbreviations
CUB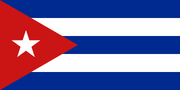 After the end of the Iberian/Lyon war against Switzerland, it was discovered by Swiss soldier's accounts and battlefield evidence that Cuba had sent supplies and soldiers to either one of or both the Swiss Socialist Republic or the Alpine Confederation. After six months of giving Cuba a chance to write and or sign the treaty, the United Republics attacked Cuba. After six months of invasion, Cuba surrendered and the Treaty of Miami (2000) was signed. This put Cuba under UR Occupation and after a few years of work, the UR and the Cuban people were able to create the Republic of Cuba that is in control today.
Relations
UR-allied
USA-good
Russia-unknown
Ethiopia-allied
Somali dictatorships-at war
Iran-hated
Terrorists-at war
Germany-neutral
Military
Guard troops-100,000
Shock troopers-30,000
Aircraft-200
Helicopters-300
T-90-tank-190
Navy
20 cruisers
Ten destroyers
100 transports
Eight aircraft carriers
Ad blocker interference detected!
Wikia is a free-to-use site that makes money from advertising. We have a modified experience for viewers using ad blockers

Wikia is not accessible if you've made further modifications. Remove the custom ad blocker rule(s) and the page will load as expected.