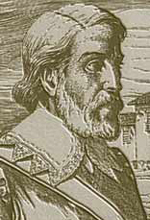 THE TIMELINE WILL BE REFORMULATED
In 1640, John IV of Portugal was crowned, marking the restoration of the independence of Portugal. The population of San Paulo, still in 1640, acclaimed Amador Bueno as the new king of San Paulo, but he declined the offer and swore allegiance to the new king. But what if Amador Bueno accept the offer and become the 'King of San Paulo'?
Coronation and War
On January 4th 1641, Amador Bueno is crowned Amador I, to a shower of applauses of the inhabitants of San Paulo. The portion of Portuguese soldiers against independence were pursued by militants while several joined in supporting the new King.
The Kingdom of Portugal, did not hesitate, and declares war against the King Amador I. Amador Bueno, declared war too along the Portuguese, beginning the Independence War. At the end of the war, the acquisition of the Kingdom of San Paulo was the captaincy of San Pedro do Rio Grande.
World Map
Ad blocker interference detected!
Wikia is a free-to-use site that makes money from advertising. We have a modified experience for viewers using ad blockers

Wikia is not accessible if you've made further modifications. Remove the custom ad blocker rule(s) and the page will load as expected.