Referendum for the independence of North Italy (Scotland says "Yes")
Add New Page
Talk

0
The referendum on independence for Northern Italy ended on Thursday the 10th November. The Italians voted in the independence of Northern Italy or to remain in Italy. The referendum was held in eight regions: Valle d'Aosta, Piedmont, Liguria, Emilia-Romagna, Lombardia, Veneto, Trentino and Friuli-Venezia Giulia.
The Percentage of Election Turnout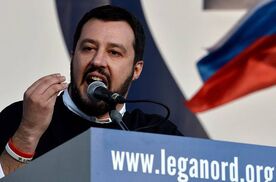 Valle d'Aosta: 51%
Piedmont: 55 %
Liguria: 40 %
Emilia-Romagna: 58 %
Lombardia: 70 %
Veneto: 90 %
Trentino Alto-Adige: 95 %
Friuli-Venezia Giulia: 60 %
The Final Results of the Referendum
Valle d'Aosta: 55/100
Piedmont: 65/100
Liguria: 51/100
Emilia-Romagna: 50/100
Lombardia: 90/100
Veneto: 95/100
Trentino Alto-Adige: 80/100
Friuli-Venezia Giulia: 70/100
The Independence of Padania and the Constitution of Padania
On the 11th November, the Federal Parliament Padano declared the constitution of the Federal Republic of Padania. The Federal Parliament have also temporarily voted Matteo Salvini as President of the Federal Republic of Padania. Salvini has said to the Parliament "Noi, popoli della Padania, solennemente proclamiamo : la Padania è una Repubblica federale indipendente e sovrana. Noi offriamo, gli uni agli altri, a scambievole pegno, le nostre vite, le nostre fortune e il nostro sacro onore."
The Republic have the most great ex-industries of the Italian Republic, so is very advanced in the industrial sector, and it also has a good healthcare system and modern economic sectors.
The Crisis in the Rest of the Italy
At this point Italy was in chaos, with fears of losing other important areas of Italy. With these independence movements, the Italian Parliament ammended the constitution the 'Declaration of Apology to Independence', and has banned any party whose key policies are independence, and the inability to elect the leaders of these movements for independence for over 50 years in each administrative office and in every election. The parties allied or formerly allied with the Lega Nord, Forza Italia, Fratelli d'Italia - A.N. and Casapound Italia have condemned the referendum and the decision of Salvini to found the Federal Republic of the Padania, and they have distanced themselves from the decisions of the Lega Nord, as well as  announcing the fall of their alliance with the Lega Nord.
The Prime Minister Matteo Renzi was accused of having given the opportunity to the Lega Nord to make a referendum for the independence of the Northern Italy, and they have resigned from the office of Prime Minister.
This chaos has led to an increase in consensus for nationalist parties and the extreme right by the Italian people such as Forza Nuova or Casapound.
On the 20th September the President Sergio Mattarella has appointed as new Prime Minister of the Republic Silvio Berlusconi, Prime Minister of Italy from 1994-1995, 2001-2006 and 2008-2011.