Red-Orange War

Date
30 March 1932 – 16 October 1935

(Three years, six months, two weeks and two days)

Location

North America, Atlantic Ocean, Pacific Ocean

Result
Anglo-Japanese victory:

Renewal of the Anglo-Japanese alliance
Occupation of America
Japan becomes the fourth largest superpower

Belligerents
British Empire

Japan

United States
Commanders and leaders
George V
W.R. Bull
John Curtin
William Lyon Mackenzie King
Hirohito
Inukai Tsuyoshi
Saitō Makoto
Keisuke Okada
Herbert Hoover
Charles Curtis
Henry L. Stimson
Patrick J. Hurley
Charles F. Adams
Strength
British Armed Forces:

3,949,670 troops
511,000 sailors
55,110 pilots
195 ships
4990 aircraft

Japanese Armed Forces:

2,749,660 troops
410,990 sailors
55,100 pilots
110 ships
4980 aircraft

American Armed Forces:

1,948,990 troops
229,990 sailors
54,990 pilots
175 ships
74,950 aircraft

Casualties and losses
917,970 dead, 17,000 wounded, 5000 civilian dead
997,770 dead, 17,100 wounded, 5600 civilian dead
The Red-Orange War (Japanese: レッド、オレンジ戦争, literally "Red-Orange War") was fought from 30 March, 1932 to 16 October, 1935 between the United States and the alliance of the United Kingdom and Japan. The British war effort was supported by troops from several regions of the British Empire, including Southern Africa, Australia, Canada, Newfoundland, British India, and New Zealand. The war ended in victory for the British and Japanese, with the partition of the United States until 1997.
Background
During the 1920s and 1930s, the United States military Joint Army and Navy Board developed a number of color-coded war plans to outline potential U.S. strategies for a variety of hypothetical war scenarios. The plans, developed by the Joint Planning Committee (which later became the Joint Chiefs of Staff), were officially withdrawn in 1939 in favor of five Rainbow Plans developed to meet the threat of a two-ocean war against multiple enemies.
The use of colors for U.S. war planning originated from the desire for the Army and Navy to use the same symbols for their plans. At the end of 1904, the Joint Board adopted a system of colors, symbols, and abbreviated names to represent countries. Many war plans became known by the color of the country to which they were related, a convention that lasted through World War II. As the convention of using colors took root, some were eventually reused, such as Grey, which originally referred to Italy but eventually became a plan for the capture and occupation of the Azores.
In all the plans the U.S. referred to itself as "Blue".
The plan that received the most consideration was War Plan Orange, a series of contingency plans for fighting a war with Japan alone, outlined unofficially in 1919 and officially in 1924. Orange formed some of the basis for the actual campaign against Japan in World War II and included the huge economic blockade from mainland China and the plans for interning the Japanese-American population of Hawaii.
War Plan Red was a plan for war against Britain and Canada. British territories had war plans of different shades of red—the UK was "Red", Canada "Crimson", India "Ruby", Australia "Scarlet" and New Zealand "Garnet". Ireland, at the time a free state within the British Empire , was named "Emerald". The plan was kept updated as late as the 1930s.
War Plan Black was a plan for war with Germany. The best-known version of Black was conceived as a contingency plan during World War I in case France fell and the Germans attempted to seize French possessions in the Caribbean or launch an attack on the eastern seaboard.
War Plans Red and Orange were eventually mixed together to make War Plan Red-Orange. The U.S. military and public felt that the power of Britain and Japan were threats to national security and War Plan Red-Orange was put into place in order to fight the two nations. The objective was to destroy the two empires.
Course of the war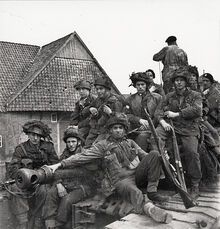 The Americans launched a surprise attack on Canada on 30 March, 1932 beginning the war with Britain. American troops had arrived in Toronto by 9 April, and Halifax on 12 April, beginning to attack major Canadian buildings. Hundreds of homes were evacuated as Americans began battling with Canadian soldiers. The two cities were taken by American troops within a few days, and had secured the cities. A key objective was a joint US army-navy attack to capture the port city of Halifax, cutting off the Canadians from their British allies. Their next objective was to "seize Canadian Power Plants near Niagara Falls." This was to be followed by a full-scale invasion on three fronts: from Vermont to take Montreal and Quebec, from North Dakota to take over the rail head at Winnipeg, and from the midwest to capture the strategic nickel mines of Ontario. In parallel, the U.S. Navy was to seize the Great Lakes and blockade Canada's Atlantic and Pacific ports. The attack on Halifax failed but didn't stop the American invaders.
What the Americans didn't know that Britain began a major rearmament in 1929 after W.R. Bull was elected as the Prime Minister of the UK. This was in order to prepare Britain for any attacks on the mainland or the empire. Not only that, but Canadian military personnel planned a Canadian counterpart to War Plan Red. Defence Scheme No. 1 was a plan created by Canadian Director of Military Operations and Intelligence Lieutenant Colonel James "Buster" Sutherland Brown, for a Canadian counterattack of the United States.
Defence Scheme No. 1 was created on April 12, 1921, and details a surprise invasion of the northern United States as soon as possible after evidence was received of an American invasion of Canada. It assumed that the Americans would first attempt to capture Montreal and Ottawa, then Hamilton, Toronto, the prairie provinces, and Vancouver and southwest British Columbia. Defence Scheme No. 1's American counterpart was War Plan Red, a plan to invade Canada as part of a war with Britain, created in 1930.
The purpose of invading America was to allow time for Canada to prepare its war effort and to receive aid from Britain. According to the plan, Canadian flying columns stationed in Pacific Command in western Canada would immediately be sent to seize Seattle, Spokane and Portland. Troops stationed in Prairie Command would be sent to attack Fargo and Great Falls, then move to Minneapolis. Troops from Quebec would be sent to seize Albany in a surprise counterattack while Maritime troops would attack Maine. When resistance to the Canadians grew they would retreat to their own borders, destroying bridges and railways to hinder American pursuit.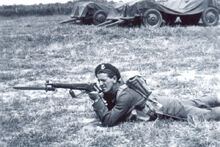 The plan turned out to be successful as Canadian troops captured Seattle and Spokane and later Portland. After the counterattack began, British empire troops began arriving in Canada. This pushed American troops out of Canada and the self-ruling colony was put under high alert by the British government.
Ad blocker interference detected!
Wikia is a free-to-use site that makes money from advertising. We have a modified experience for viewers using ad blockers

Wikia is not accessible if you've made further modifications. Remove the custom ad blocker rule(s) and the page will load as expected.