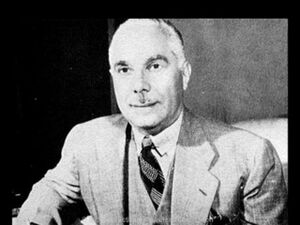 Rafael " The Chief" Trujillo
( October 24th, 1891- August 1st, 1974) was a Dominican general and
I.S
Secretary of War from 1951-74. Trujillo grew up in relative obscurity in the Dominican Republic. When the U.S occupied the Dominican Republic during the height of World War I, Trujillo offered his services to the Americans. Initially crushing rebels in the Caribbean, Trujillo served in the invasion of Colombia, where, being a native Spanish speaker, he helped to negotiate with the Colombian government. Trujillo also served with future President
Douglas MacArthur
in the Battle of the Marne. Trujillo was an effective poster child for the "inclusiveness" of American rule, showing that colonial subjects could be successful.

After the U.S annexation of the Dominican Republic as Dominica in 1921, Trujillo was appointed to serve as lieutenant governor of the territory of Hispaniola. After Governor Woodrow Wilson's death in 1924, President Lodge appointed Trujillo as the new governor. As governor, Trujillo tightened his economic and political domination over the island, introduced Jim Crow, and expanded his influence across Central America and the South. Eventually, his corrupt business practices and Latino ethnicity would lead to the Cristobal scandal of 1930, at the height of the Great Depression. Targeted by racist and populist senators, Trujillo was forced to resign, although he maintained an economic grip over his island. Trujillo was banished to become a General in the American protectorate of the Hejaz, where he lead in the conquest of Saudi Arabia. Returning to the Americas, he fought against the LAU throughout the 1930's, where he participated in the famous Guantanamo massacre, which lead to the death of 300 inmates. When the U.S entered World War II, Trujillo's armies defended Colombia and other American holdings. He eventually became the Supreme Commander of the South American theater in 1942, defeating Argentina and the Pan-American Alliance in 1945, cementing his status as a war hero. His influence spread so far that his former commander, Douglas MacArthur, appointed him Secretary of War in 1951, becoming the sole Latino member of the cabinet.
Trujillo, as Secretary of War, was a firm war hawk, calling for a muscular stance against the New Russian Empire, and successfully directed multiple operations in World War III. With a third World War, the War Department vastly expanded its powers, to Trujillo's benefit. When Russia was defeated, Trujillo was hailed as a national hero, allowing him to continue as Secretary for what was effectively a life term. After MacArthur's death and Henry Cabot Lodge Jr's rise to the presidency, Trujillo and his fellow cabinet members sought to constrain Lodge's influence. Trujillo became the driving force in the Second Spanish-American War, overriding Lodge's caution, and continuing the war needlessly for years. Federal investigations would later reveal that Trujillo sold arms to the Spanish in order to prolong the war and his power. Trujillo became more powerful then the President, leading to mass popular unrest. That a colonial subject wield such power made him unpopular on both the left and the right. After President Lodge tried to dismiss Trujillo at the conclusion of the Spanish-American war, Trujillo lead a military coup. Trujillo soon discussed openly his plans to be crowned Emperor in 1976. Four days after the coup, Trujillo was overthrown by the Reformist Andrew Goodpaster. Trujillo died in prison awaiting the outcome of his trial.